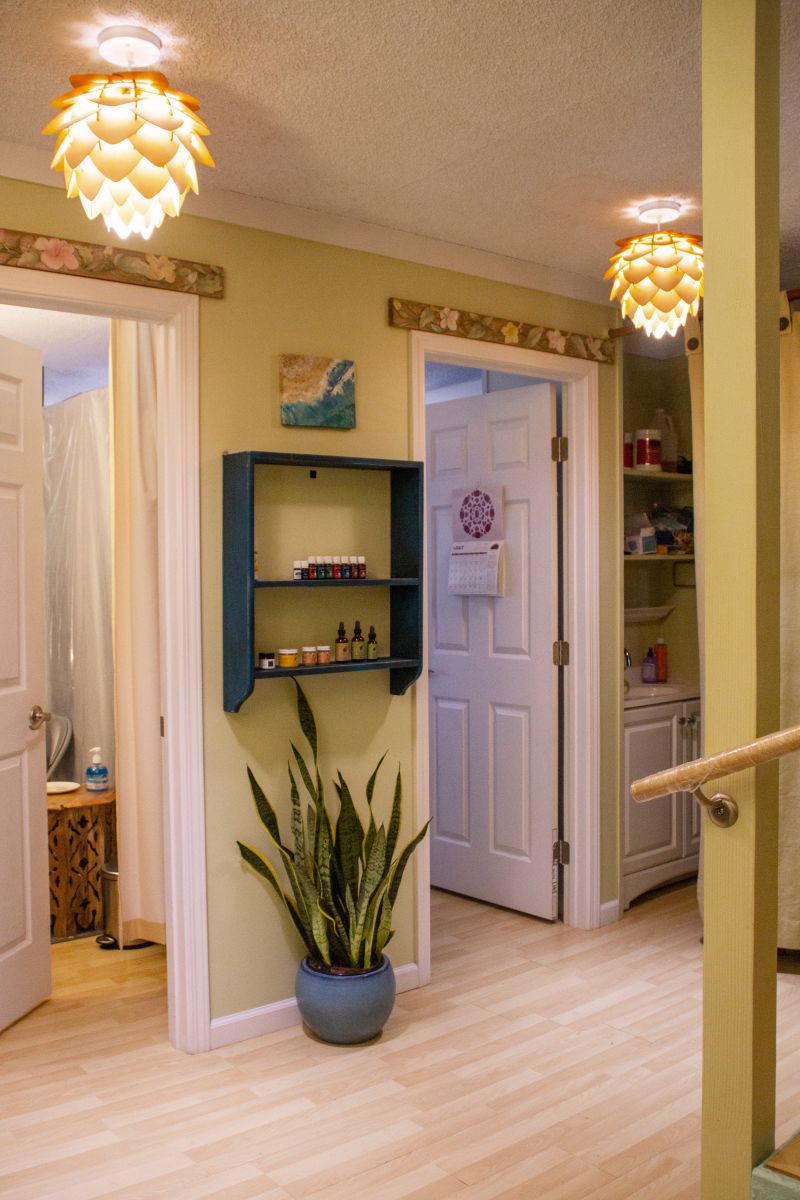 Aloha! My name is (Frances) Abby Parker, licensed massage therapist, MAT#6037 March 2001, Ashiatsu Instructor, massage educator, owner of North Shore Ashiatsu and Massage, MAE #1821
I attended American Institute of Massage Therapy in 2000. Apprenticeship at Hawaii Healing Arts College, Kailua, HI 2000-2001.
I opened North Shore Natural Balance Massage, in 2003-2011 at Ka'ala Healing Arts, Waialua, HI. Name changed to North Shore Ashiatsu and Massage 2009.
Employed at Turtle Bay Resort, Nalu Kinetic Spa 2012-2013.
I reopened at Ka'ala Healing Arts in 2014-2018.
I relocated to the historic building 'The Koga Theater' next to Pa'alakai Bakery in Waialua November 2018. This move has allowed me to offer employment to other professional massage therapist, teach continuing education in ashiatsu, and massage basics for beginners to apprenticeships for aspiring persons interested in the healing arts.
Ashiatsu Instructor, Barefoot Masters® 2014-2018.
Ashiatsu Instructor, DeepFeet Bar Therapy® 11/2018- current
I have enjoyed almost 20 years of self employment as a massage therapist and the last several years as an educator (yet always a student myself)! Contact me if you are interested in learning ashistau or becoming a professional massage therapist. I am able to provide hours for LMT's from out of state for licensure in Hawaii. (upon state approval through application process)
Continuing education:
Lomilomi: Brenda Mohalapua Ignacio LMT

Repetitive Use Injury Therapy: Michael Young

Chair Massage: David Palmer, TouchPro Institute

Thai Massage I & II and Thai Foot Reflexology: Thai Massage School of Chang Mai, Thailand

Myofascial Release I: John F. Barnes PT,

British Sports Therapy: Stuart Tawes Instructor/Developer

Lymph Drainage Therapy I: Bruno Chikly MD, DO (hon), The Upledger Institute, Inc.

CranioSacral Therapy I: Roy Desjarlais LMT, CST-D, The Upledger Institute, Inc.

Ashiastu I, II & III and Fijian massage: Michelle D. Mace-Lambert LMT, The Barefoot Masters

Medical Massage Therapy: David C. Morin, BA, RMT, Health Matters Seminars, 5 course certificate (80 hours).

Secrets of Deep Tissue: Robert B. Hasse, LMP

The Cupping Revolution: Lisa Dowling

Ashiatsu Basics Instructor Training: Deepfeet Bar Therapy

Physical Assessment and Objective Documentation: Health Matters Seminars, Wanita R. Thompson, RN, LMT and David Morin, BA, RMT (This completes the Medical Massage Certification 100 hours program)

Ethics for Clinical Massage: Health Matters Seminars, Wanita R. Thompson, RN, LMT

Sarga Silks Deepfeet Bar Therapy

Advanced Ashiatsu Deepfeet 2

Deepfeet 3

Ashi Thai

Yomassage Training
Welcome Back Melody Gifford!
Melody's bio will be posted soon...
I welcome Rachel Burgess to our team! **Temporarily taking time off**
My name is Rachel Burgess, I'm a licensed massage therapist (MAT#16225) and an insured member of the American Massage Therapy Association. A graduate of Hawaii Healing Arts College, I work on the North Shore of Oahu at Turtle Bay Resort and am proud to also offer massage therapy independently.
As a child I enjoyed giving foot massages to my grandmother and walking on my dad's back. Many years later as an adult receiving my first professional massage, I realized I saw myself in this healing profession and continuing to help others. I have seen the positive effects of consistent massage in mind, body, and spirit in my life firsthand. Getting to know the body has made me passionate about wellness and self care.
The best thing about my career in massage therapy is meeting new people and helping them to feel their best. I listen to the individual and create a customized massage and treatment plan just for you. I strive to be a trauma informed therapist and welcome all bodies.
Continuing Education: After licensure, I completed an additional 25 NCBTMB (National Certification Board for Therapeutic Massage & Bodywork) continued education credits with Abby Parker of North Shore Ashiatsu. I am now able to offer the unique modality of Ashiatsu. You can find out more at http://barefootbodywork@amtamembers.com
Petrita Lubin, LMT#16180 (HI) and Alaska, will be missed! Petrita was such a joy to work with and clients loved her massages and getting to know her. She and her husband are now in Germany for a couple of years.