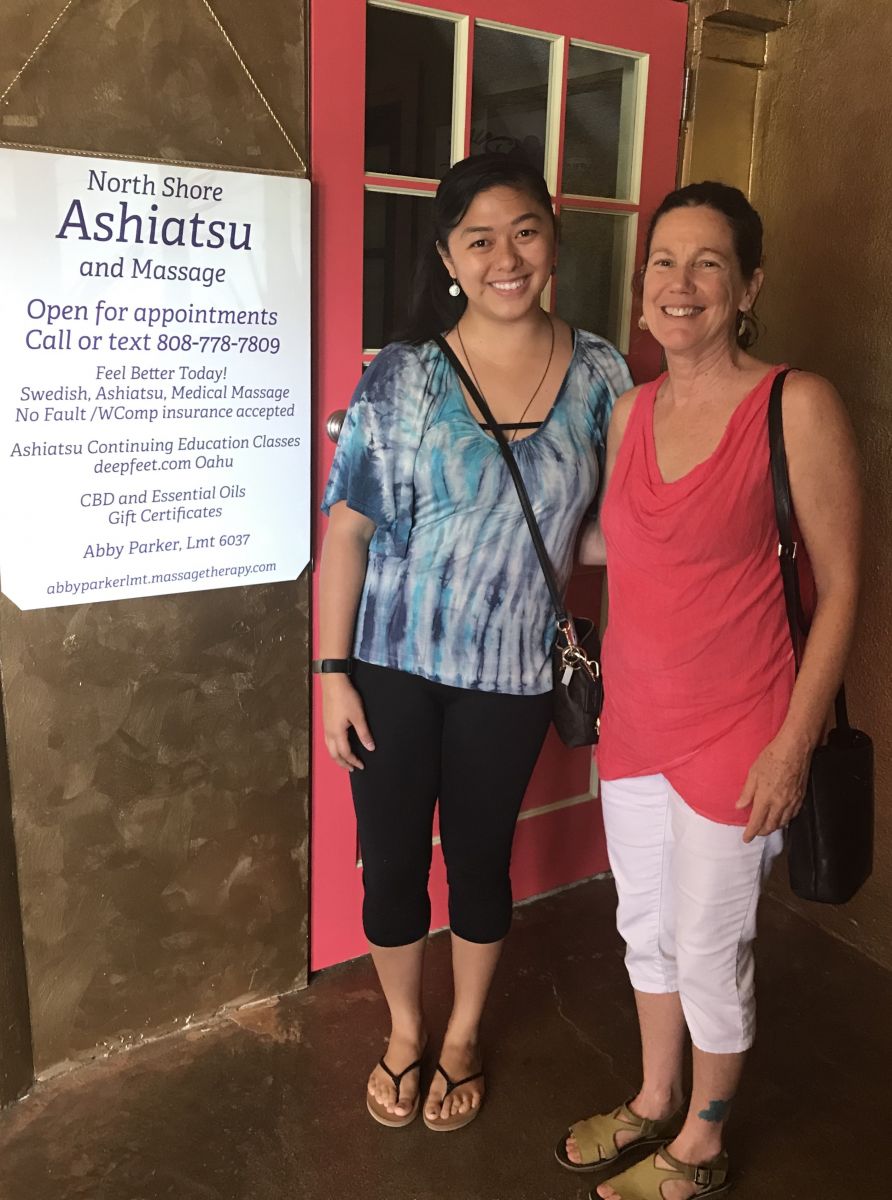 Name and Credentials: (Frances) Abby Parker, LMT, license MAT#6037 since March 2001, Ashiatsu Instructor
Training: American Institute of Massage Therapy and Hawaii Healing Arts College, Kailua, HI graduate 2001.
Work Experience: Self Employed 2001-2003; North Shore Natural Balance Massage, owner, 2003-2011 (name changed to North Shore Ashiatsu and Massage 2009) Ka'ala Healing Arts, Waialua, HI; Turtle Bay Resort, Nalu Kinetic Spa 2012-2013; Self Employed 2013-current North Shore Ashiatsu and Massage located at Ka'ala Healing Arts in Waialua. Relocated December 2018 to the shops at Pa'alakai.
Ashiatsu Instructor, Barefoot Masters® continuing education since early 2014-2018.
Ashiatsu Instructor, DeepFeet Bar Therapy® 11/2018
Continuing education:
Lomilomi: Brenda Mohalapua Ignacio LMT

Repetitive Use Injury Therapy: Michael Young

Chair Massage: David Palmer, TouchPro Institute

Thai Massage I & II and Thai Foot Reflexology: Thai Massage School of Chang Mai, Thailand

Myofascial Release I: John F. Barnes PT,

British Sports Therapy: Stuart Tawes Instructor/Developer

Lymph Drainage Therpay I: Bruno Chikly MD, DO (hon), The Upledger Institute, Inc.

CranioSacral Therapy I: Roy Desjarlais LMT, CST-D, The Upledger Institute, Inc.

Ashiastu I, II & III and Fijian massage: Michelle D. Mace-Lambert LMT, The Barefoot Masters

Medical Massage Therapy: David C. Morin, BA, RMT, Health Matters Seminars, 5 course certificate (80 hours).

Secrets of Deep Tissue: Robert B. Hasse, LMP

The Cupping Revolution: Lisa Dowling

Ashiatsu Basics Instroctor Training: Deepfeet Bar Therpy

Physical Assessment and Objective Documentation: Health Matters Seminars, Wanita R. Thompson, RN, LMT and David Morin, BA, RMT (This completes the Medical Massage Certification 100 hours program)

Ethics for Clinical Massage: Health Matters Seminars, Wanita R. Thompson, RN, LMT

Sarga Silks Deepfeet Bar Therapy

Advanced Ashiatsu Deepfeet 2

Deepfeet 3

Ashi Thai

Yomassage Training
Why I do what I do: I love being a massage therapist for many reasons. One being that I love people and helping them feel better. I strive to continue my education to understand the body and techniques that will better assist my clients. Ashiatsu and medical massage are what I love most! Ashiatsu allows me to give broad strokes, with firm or light pressure, that is easy on my body. It feels like I am ironing out the muscle tissue and my clients love it! Medical massage is also very satisfying and always interesting. I work with clients who have injuries from car accidents (no fault insurance), or work related (work comp), or sports related (too much fun!). My specialty areas are neck and shoulders, hip and knees. I often use a combination of techniques to meet each individual's need.
A little bit about me: I love living on the North Shore and being part of this community. I enjoy surfing (small waves), swimming and snorkeling, riding my bike on the beautiful bike path, beach combing, collecting beads and making jewelry, continuing education in art and massage! I love to travel enjoying architecture, culture and food. A good book to expand my horizons and imagination. A good film or to be in nature and find inspiration!
Name and Credentials: Tenisha Ruidas, LMT, license MAT#15385 since September 2017
Training: Aloha School of Massage Therapy, graduated June 2017, and Maui School of Therapeutic Massage
Work Experience: Self Employed from 2017, Spa Maui and Massage, Sheraton: Spa at Black Rock, Ahhh Massage Kaanapali.
Continuing Education: Swedish, Lomilomi, Deep Tissue, Neuromuscular Therapy, Side-Lying, Sports Massage, Chair Massage, Ortho-bionomy/Jorei/Reiki (Energy Work), Backwalk, Thai Massage, Prenatal, Lymphatic Drainage, Hot Stones, Reflexology, Ashiatsu, Cupping
Aloha! My name is Tenisha Ruidas and welcome to my world of massage therapy! I discovered my calling to become a massage therapist back when I was in high school during my anatomy class. Despite not being very fond of school, learning about the body always caught my attention over my other classes. After graduating high school, I attended college on Maui but quickly realized that it wasn't for me. In July of 2016, I started my path as a therapist at Aloha School of Massage Therapy on Maui under Trina Kuailani. I graduated in June of 2017 and officially became licensed in September 2017. My love for massage didn't stop after graduating as my curiosity motivated me to learn the many other styles of massage therapy. I continued my education taking various classes on Maui and Oahu in the coming months. My defining reason for becoming a massage therapist was my strong sense of wanting to help people. As a former soccer athlete, I sustained many injuries along the way; however, I always remembered the feeling of being taken care of by the trainers and therapists. Now, I want to be the one to help people recover from injuries, or just to make them feel better. One of the best feelings as a therapist is having clients telling you how much better they feel after getting worked on. I invite you to come and enjoy massage here at the North Shore Ashiatsu and Massage ☺
Aloha! My name is Melody Gifford. With a background in physical education, I have always been very interested in learning about muscles and how the body works. Health and natural healing have always been important to me. A couple of years ago I decided to go back school and get my license as a massage therapist. I really care about people and I feel that through massage I can show that. I love to help people feel better, to be able to help them let go of stress and relax. I recently learned what Ashiatsu was from Abby Parker and decided to take her class. Wow! I am so glad I did! Ashiatsu is a very relalxing style of massage that gives a deeper pressure than a hands-on massage but is not painful. This is because the surface of the foot is broad. I think it has become my favorite type of massage to receive as well as give. If you have never had an ashiatsu massage, I encourage you to try one! I am very excited to now be part of the team at North Shore Ashiatsu and Masssage!
I am a single mom with two amazing kids and a sweet but crazy dog. I have been living in Hawaii for over five years and I absolutely love it! I love the ocean... swimming, surfing, walking on the beach, or just watching the sunset. I love hiking. I love the people here and the way of life.