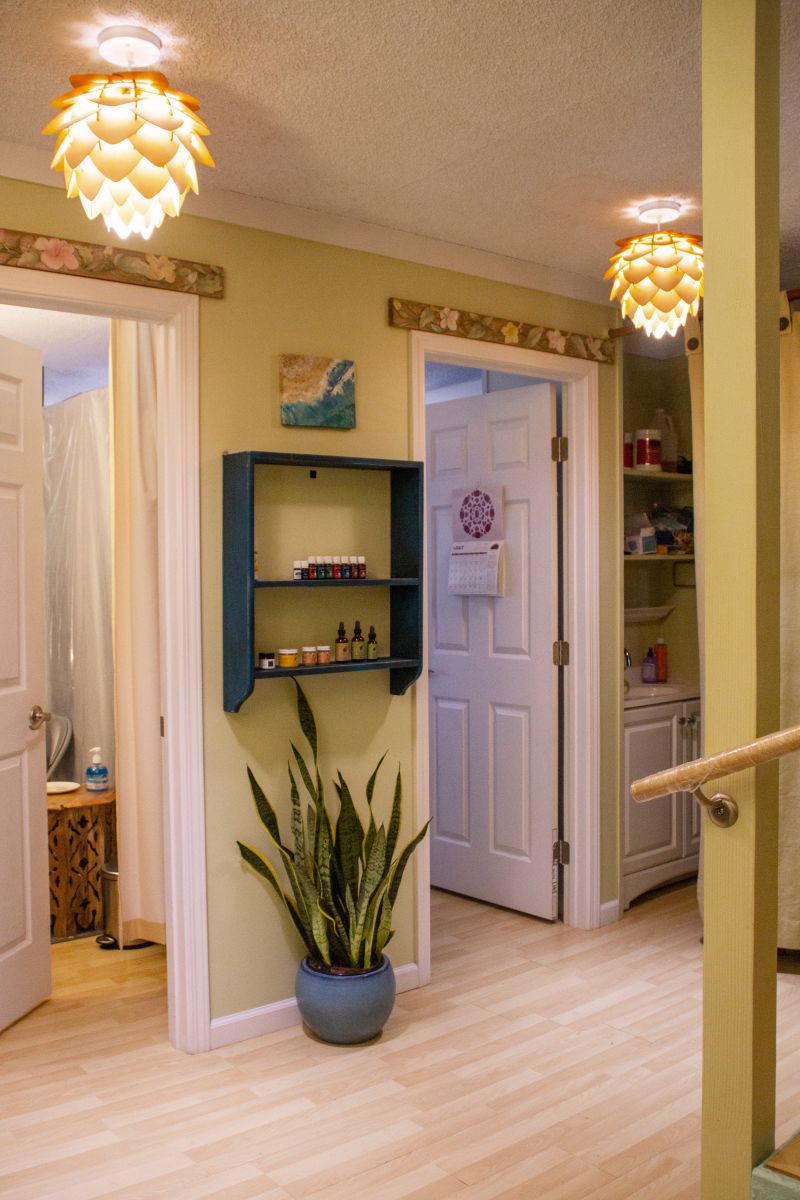 (Frances) Abby Parker, MAT#6037:
Ashiatsu Instructor, massage educator, owner of North Shore Ashiatsu and Massage, MAE #1821
American Institute of Massage Therapy in 2000. Apprenticeship at Hawaii Healing Arts College, Kailua, HI 2000-2001.
North Shore Natural Balance Massage, in 2003-2011 at Ka'ala Healing Arts, Waialua, HI. Name changed to North Shore Ashiatsu and Massage 2009. Employed at Turtle Bay Resort, Nalu Kinetic Spa 2012-2013. Ka'ala Healing Arts in 2014-2018.
NSA&M relocated to the historic building 'The Koga Theater' next to Pa'alakai Bakery in Waialua November 2018.
Ashiatsu Instructor, Barefoot Masters® 2014-2018.
Ashiatsu Instructor, DeepFeet Bar Therapy® 11/2018- current
I have enjoyed 20 years of self employment as a massage therapist and the last several years as an educator (yet always a student myself)! Contact me if you are interested in learning ashistau or becoming a professional massage therapist. I am able to provide hours for LMT's from out of state for licensure in Hawaii. (upon state approval through application process)
Continuing education:
Lomilomi: Brenda Mohalapua Ignacio LMT

Repetitive Use Injury Therapy: Michael Young

Chair Massage: David Palmer, TouchPro Institute

Thai Massage I & II and Thai Foot Reflexology: Thai Massage School of Chang Mai, Thailand

Myofascial Release I: John F. Barnes PT,

British Sports Therapy: Stuart Tawes Instructor/Developer

Lymph Drainage Therapy I: Bruno Chikly MD, DO (hon), The Upledger Institute, Inc.

CranioSacral Therapy I: Roy Desjarlais LMT, CST-D, The Upledger Institute, Inc.

Ashiastu I, II & III and Fijian massage: Michelle D. Mace-Lambert LMT, The Barefoot Masters

Medical Massage Therapy: David C. Morin, BA, RMT, Health Matters Seminars, 5 course certificate (80 hours).

Secrets of Deep Tissue: Robert B. Hasse, LMP

The Cupping Revolution: Lisa Dowling

Ashiatsu Basics Instructor Training: Deepfeet Bar Therapy

Physical Assessment and Objective Documentation: Health Matters Seminars, Wanita R. Thompson, RN, LMT and David Morin, BA, RMT (This completes the Medical Massage Certification 100 hours program)

Ethics for Clinical Massage: Health Matters Seminars, Wanita R. Thompson, RN, LMT

Sarga Silks Deepfeet Bar Therapy

Advanced Ashiatsu Deepfeet 2

Deepfeet 3

Ashi Thai

Yomassage Training
Melody Gifford MAT #16072
Aloha! My name is Melody Gifford. I have always been fascinated learning about the body (background- BS in Physical Education, Houghton College, 2002), and holistic healing, I decided to go back to school to learn massage.
I graduated from Hawaii Healing Arts College and became a Licensed Massage Therapist () in 2019.
Shortly after becoming licensed, I wanted to see what Ashiatsu was all about... so I came to get an Ashiatsu from Abby Parker and it was the BEST MASSAGE I'd ever had in my life. It was deeply relaxing and therapeutic. I knew I had to learn this modality. So I jumped right in and took her very next class.
I love giving massage for many reasons. As I said, I love learning about the body (anatomy, physiology, kinesiology, etc) ... But mostly, I truly love to care for people through massage. It feels so good to be able to make people feel better, both physically and emotionally, through massage. It makes me feel that I am doing exactly what I should be doing.
I specialize in Swedish relaxation and Ashiatsu massage, and I am excited to continue to learn and grow in more modalities in the years to come.
I really enjoy working at North Shore Ashiatsu and Massage. It is a very professional, clean, and peaceful place to be.
Maureen McLaughlin Dean, BA, RPP, MAT#5857
Whenever someone asks me about my work, I share that all of life is energy and energy has one purpose, to move. Energy must keep moving to prevent stagnation, pain and disease. Polarity therapy provides the tools necessary to release blocked energy and restore the body to balance and health. "With conscious touch we dance with the body's energy as it moves in alternating pulses to and from its source. When we hold a neutral and grounded space we allow the inherent wisdom of this energy to emerge."
As a polarity practitioner I have witnessed miraculous healing responses to polarity bodywork and encourage my clients to engage in polarity yoga between sessions. Specific chakra balancing protocols and energy exercises will be customized to each clients needs. A typical session is provided on a magnetic pad and will include massage, cranial sacral balancing as well as polarity energy work for a deeply relaxing and healing experience.
Maureen studied and later taught at the New Mexico Academy of Healing Arts in Santa Fe and the Maui Academy of Healing Arts in Kehei. With over 2000 hours of nationally certified training in massage, polarity therapy and cranial sacral balancing, she has been licensed in private practice in Hawaii since 2000.
Your Bodywork session with Maureen will be customized to your specific needs with a blend of above modalities along with deep tissue, lomi lomi, sports massage and or pregnancy massage.
Let her experience and well trained hands bring you the healing and nurturing you deserve. No Fault and Worker's Comp welcome.