Feel better today!
Call or text 808-778-7809
Location: 66-037 Kamehameha Hwy, Haleiwa, HI 96712
Available Services:
Medical Massage is helpful in the recovery of an injury or chronic soft tissue pain. It is an active massage using a variety of techniques to address specific needs of the client. Accepting No Fault and Worker's Comp insurance with a referral and prescription from a doctor. Abby has completed a 100 hour medical massage certification program along with other courses in specific techniques for pain relief.
Ashiatsu Massage may be one of the best massages you'll ever receive! Ashi means foot, atsu means pressure. This is a technique where the therapist uses their feet to perform long and evenly maintained strokes. This method is easy to focus the pressure, which can be light, medium or firm. The foot fits the contours of the body comfortably from the neck to the shoulders, hips, and legs! Due to the precision of Ashiatsu, it is very effective for the relief of tight sore muscles caused by over use and or stress.
Swedish Massage is the most popular type of massage in the United States. It involves the use of hands, forearms or elbows to manipulate the superficial layers of the muscles to improve mental and physical health. Active or passive movement of the joints may also be part of the massage. The benefits of Swedish massage include increased blood circulation, mental and physical relaxation, decreased stress and muscle tension, and improved range of motion.
Prenatal / Pregnancy Massage: You will be taken very good care of when you come in for this massage! Massage during pregnancy not only makes a woman feel pampered, but offers undeniable physical benefits as well. Massage can relieve fatigue, enhance sleep, and calm an active baby. During the entire term of the pregnancy, massage can stimulate blood flow, which may assist in the prevention of anemia. An increase in muscle tone and flexibility will occur, alleviating leg cramps and muscle spasms.
Massage during pregnancy is also a great way to relieve everyday tension and the general aches and pains your body is suffering. It stimulates your lymphatic system, increasing immunity and the removal of excess toxins, while also stabilizing hormonal levels and balancing the glandular system.
Facial Lymph Drainage is an excellent form of non-invasive treatment that can minimize the effects of sun and environmental damage, and aging. It stimulates blood flow and collagen growth which is effective in eliminating wrinkles and baggy eyes.
*Continuing Education Courses: Deepfeet Bar Therapy® offers a comprehensive curriculum in Ashiatsu from Basics to advanced courses. The Basics course is held over 3 days and you receive 24 CEU's upon completion (NCBMTB approved). Please refer to their website for more detailed information or contact me anytime! The best continuing education you could do for the longevity and effectiveness in your massage career!
*Ashiatsu Basics class: 2024 class schedule is up! See Deepfeet Continuing Education Page.
* November 26-28
Learn more at http://deepfeet.com Location Oahu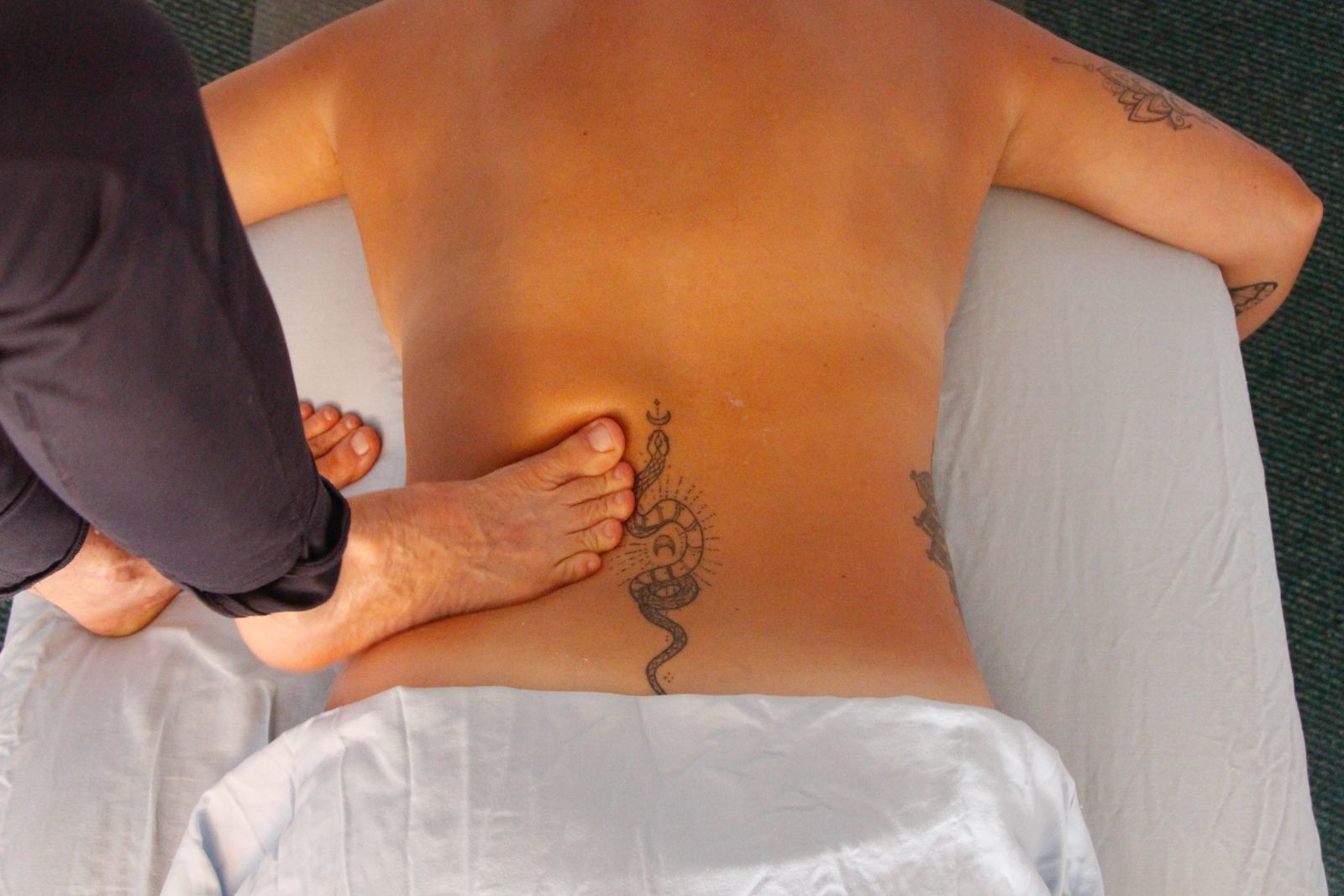 | Service/Product | Rate | |
| --- | --- | --- |
| Ashiatsu | $90-115 | / 60 minutes |
| Ashiatsu | $130-150 | / 90 minutes |
| Medical Massage | $115 | / 60 minutes |
| Medical Massage | $150 | / 90 minutes |
| Pre-Natal/Pregnancy Massage | $90-115 | / 60 minutes |
| Swedish Massage | $90-115 | / 60 minutes |
| Swedish Massage | $130-150 | / 90 minutes |