Barefoot Masters® Ashiatsu Continuing Education Classes 2014-2015-2016
DeepFeet Bar Therapy® Ashiatsu Training
New Location!
We have a beuatiful space with room for 3 tables!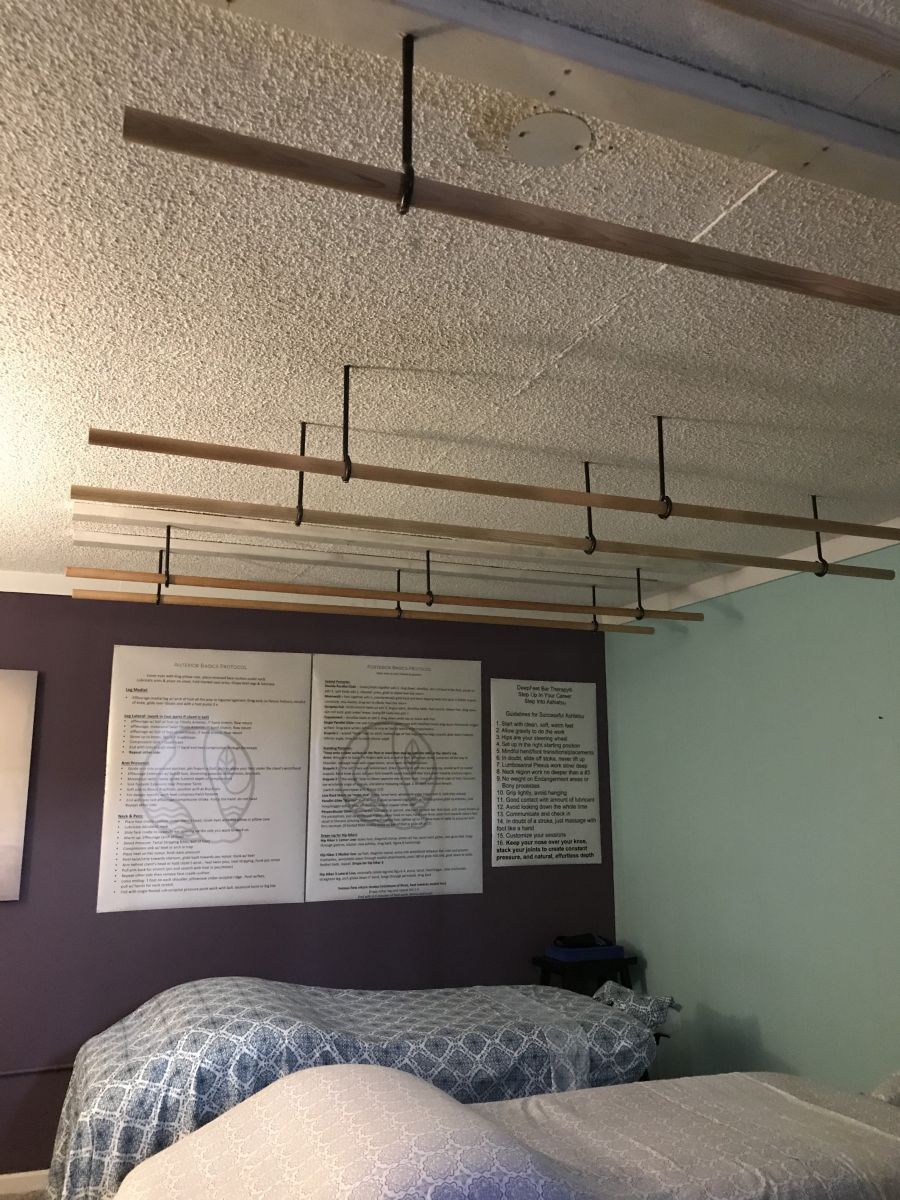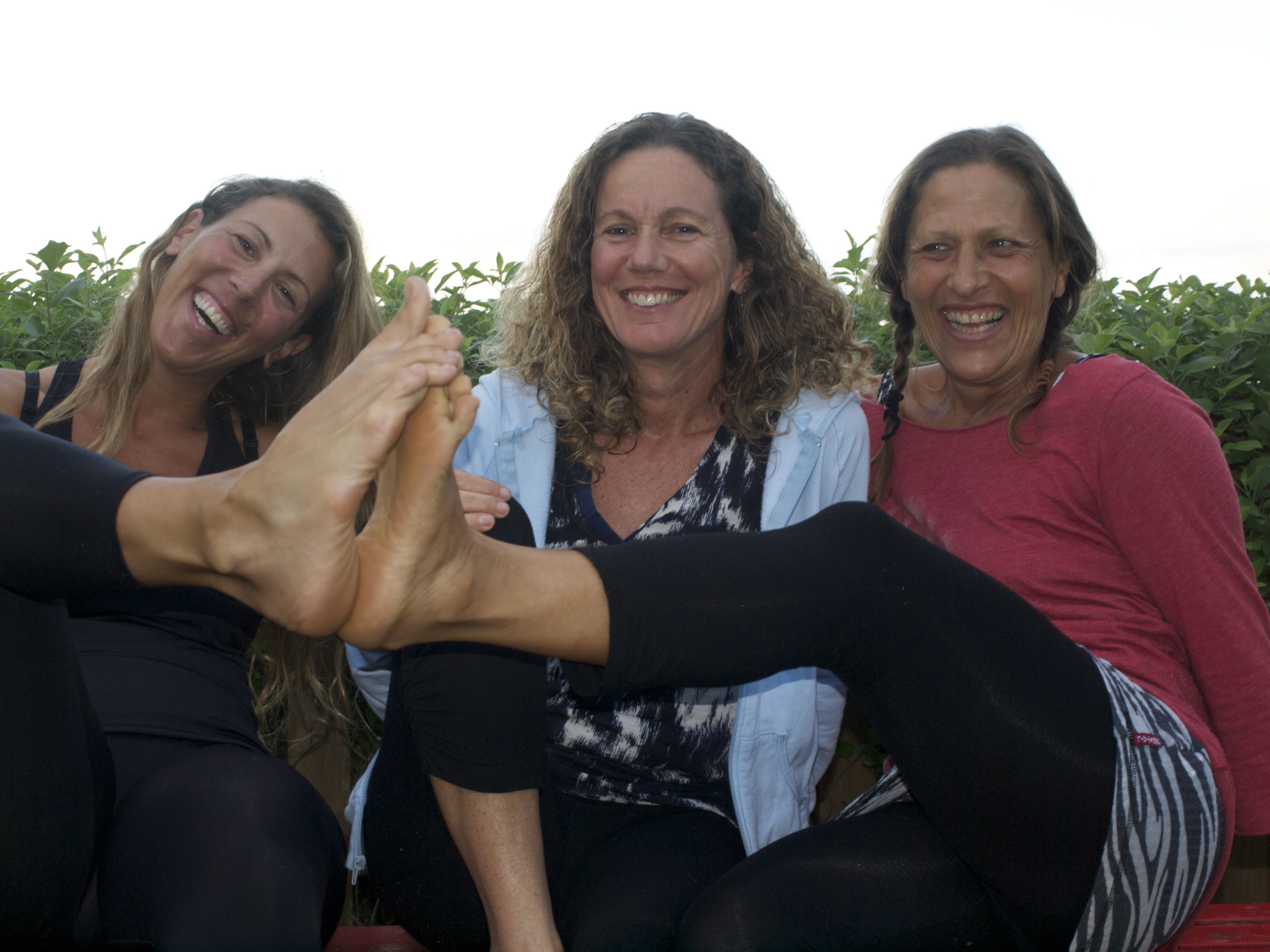 Flor from Brazil, Abby, Instructor and Ellen from California
Mariah from Utah and Emily from Hawaii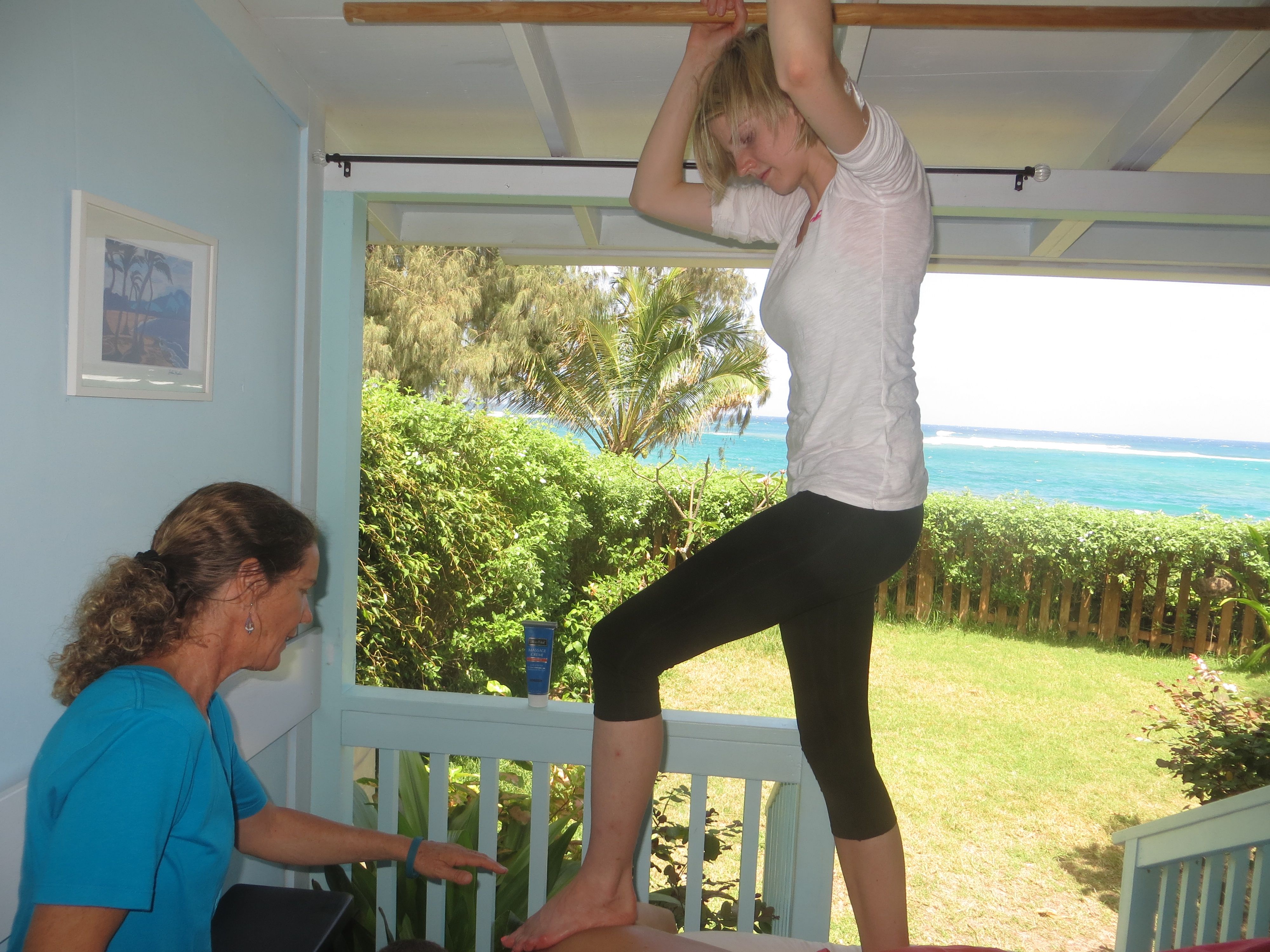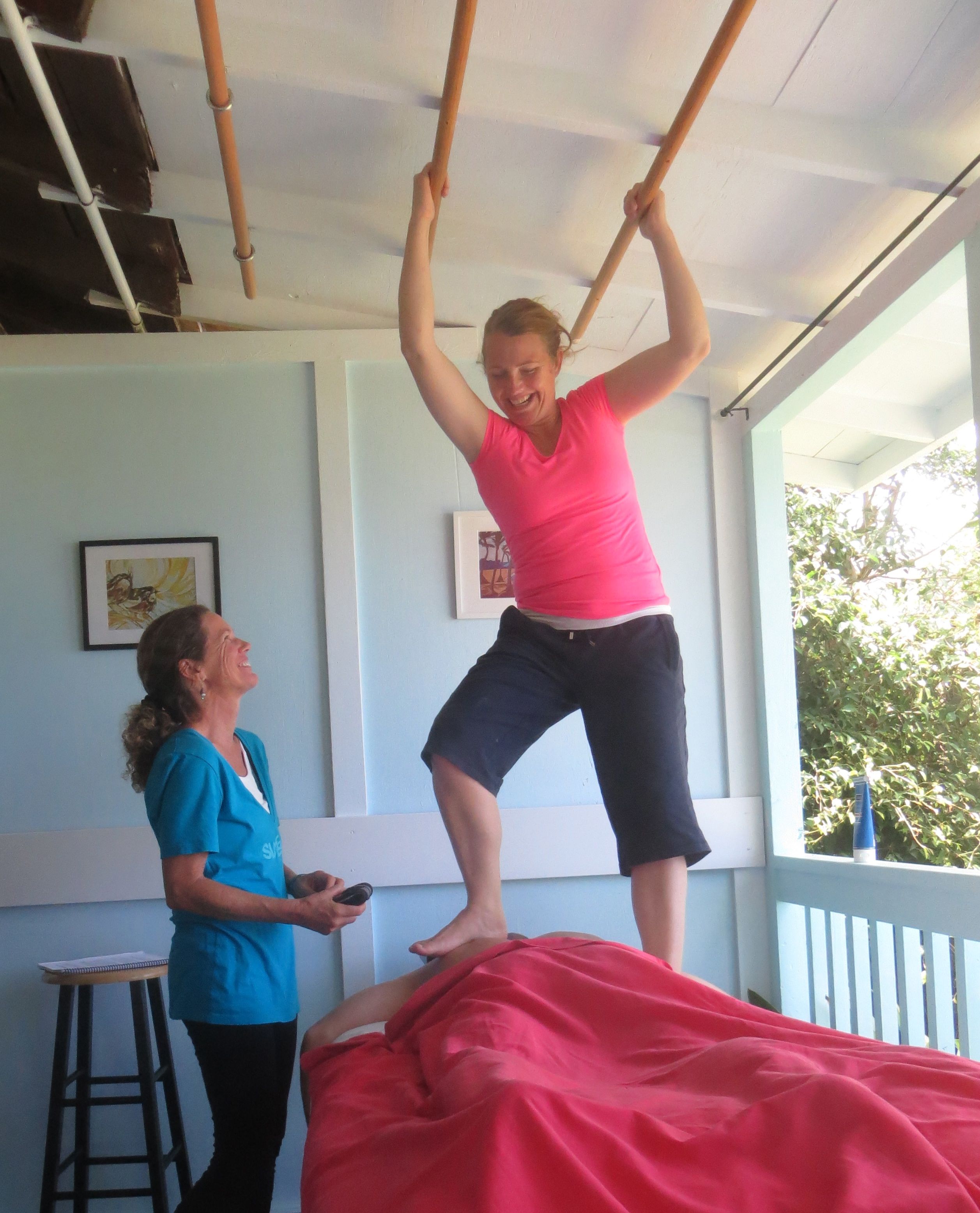 Comments from students: Very inspired! Love, Love, Love it!
Abby gave great tips. Fun place to learn ashi!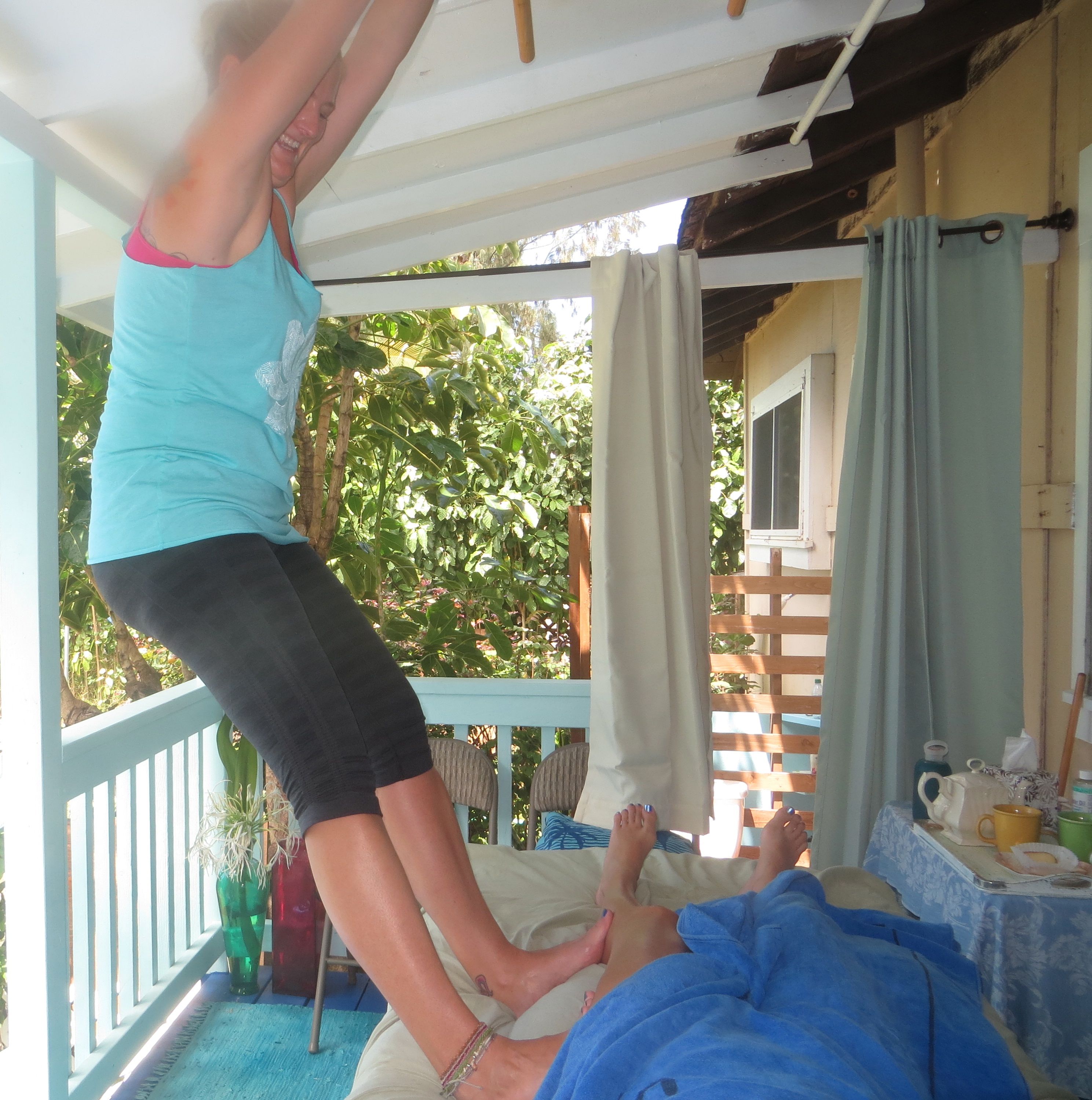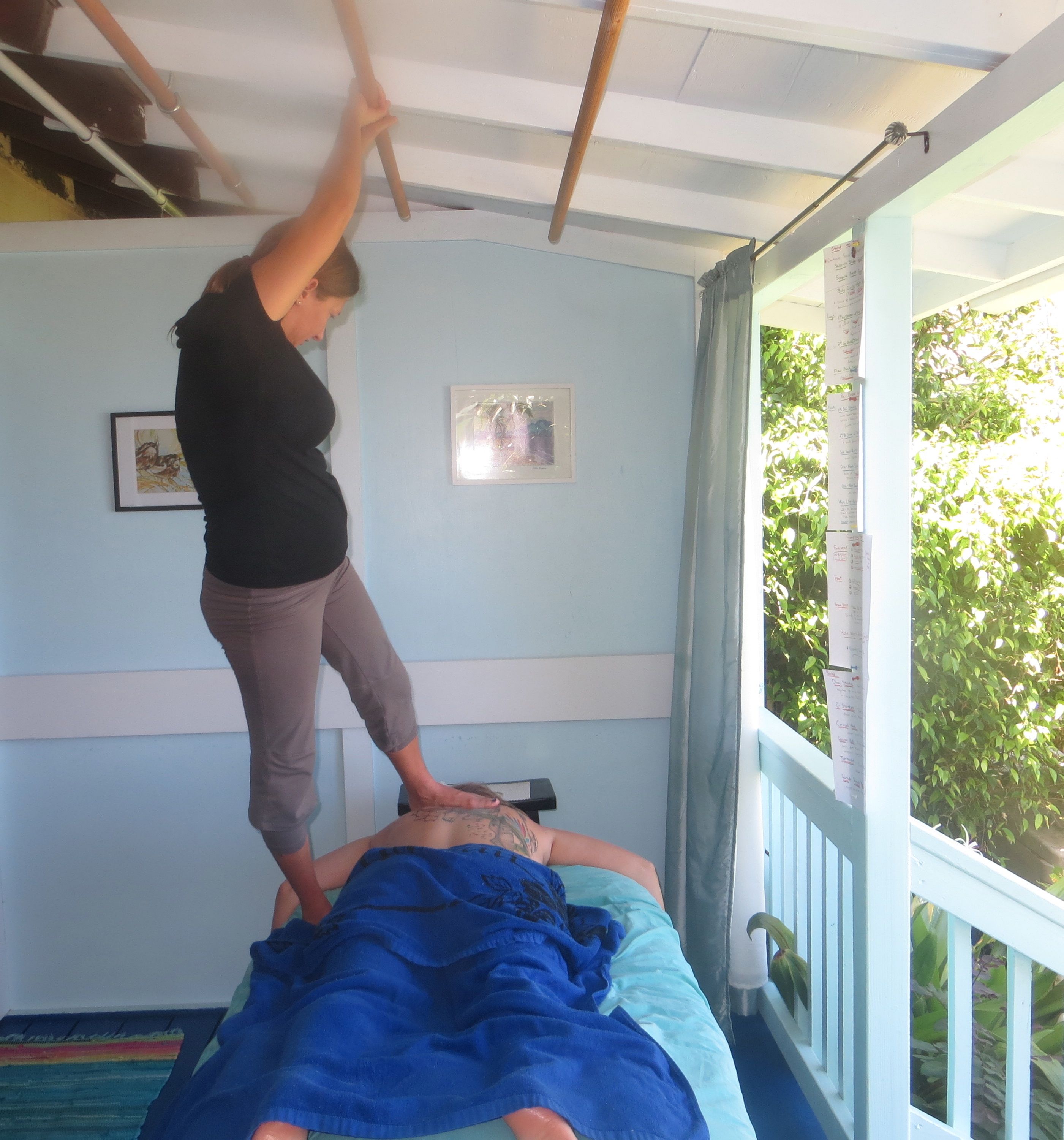 Stacey and Tara are massage therapist at close by Turtle Bay Resort! They are now one step ahead of the rest!
Kenney, from Kaneohe, and Stacie from Maui, both caught on very quickly!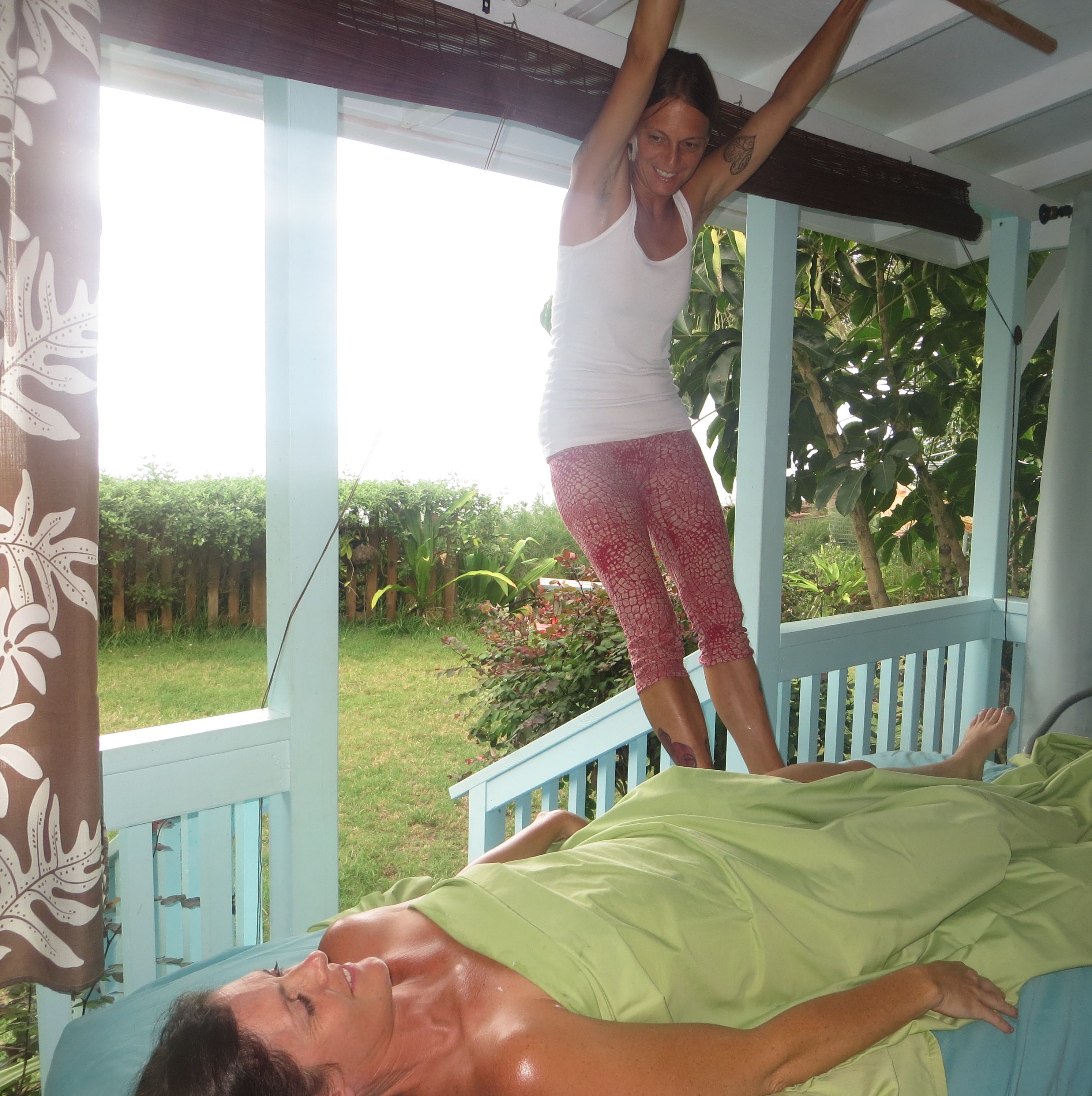 Got to love it when your client says "Oh! that feels so good!"Stacie is now practicing Ashiatsu on Maui where she works on a lot of 'big muscly guys'! She says she is very happy to be able to work with her feet!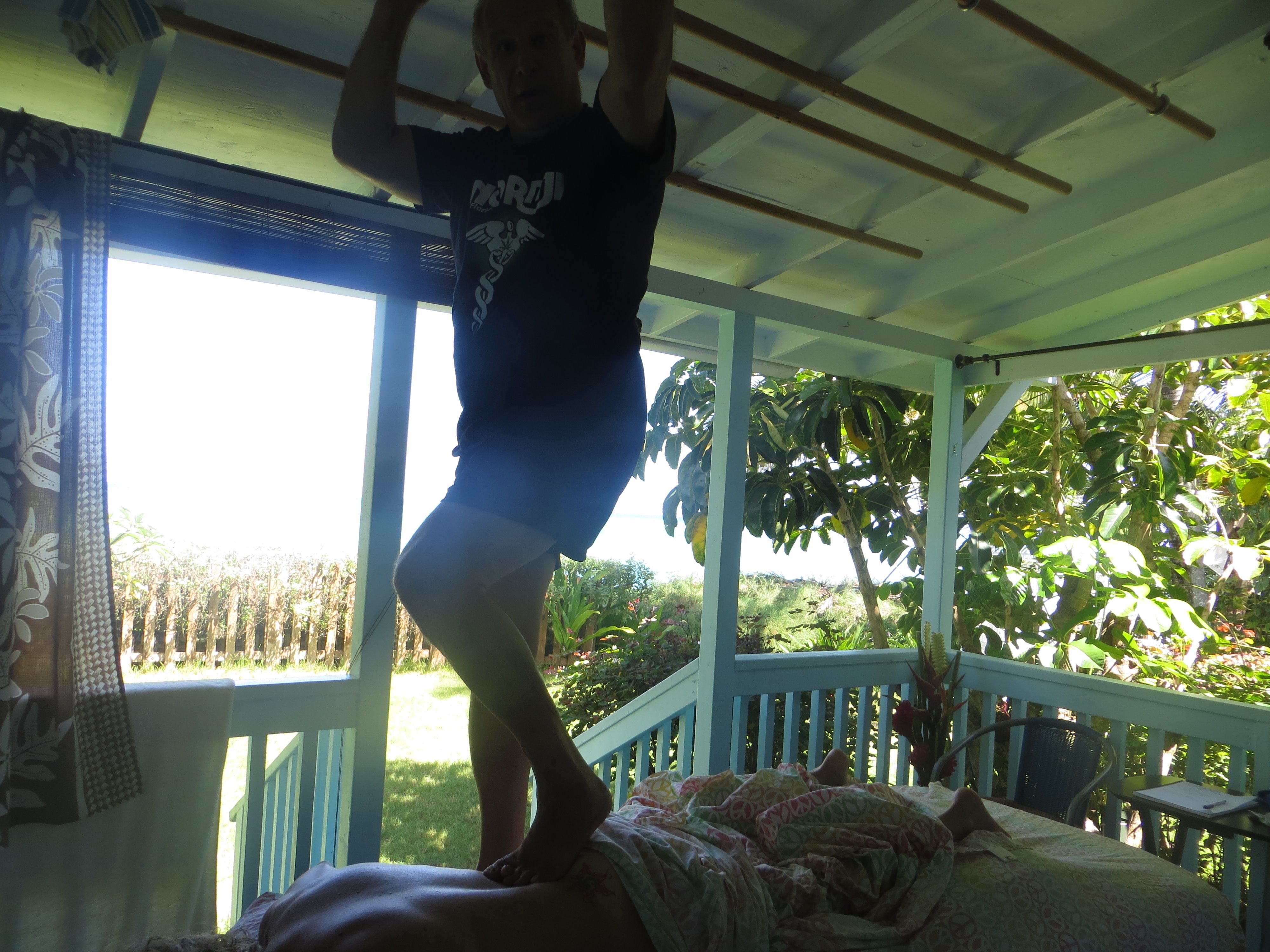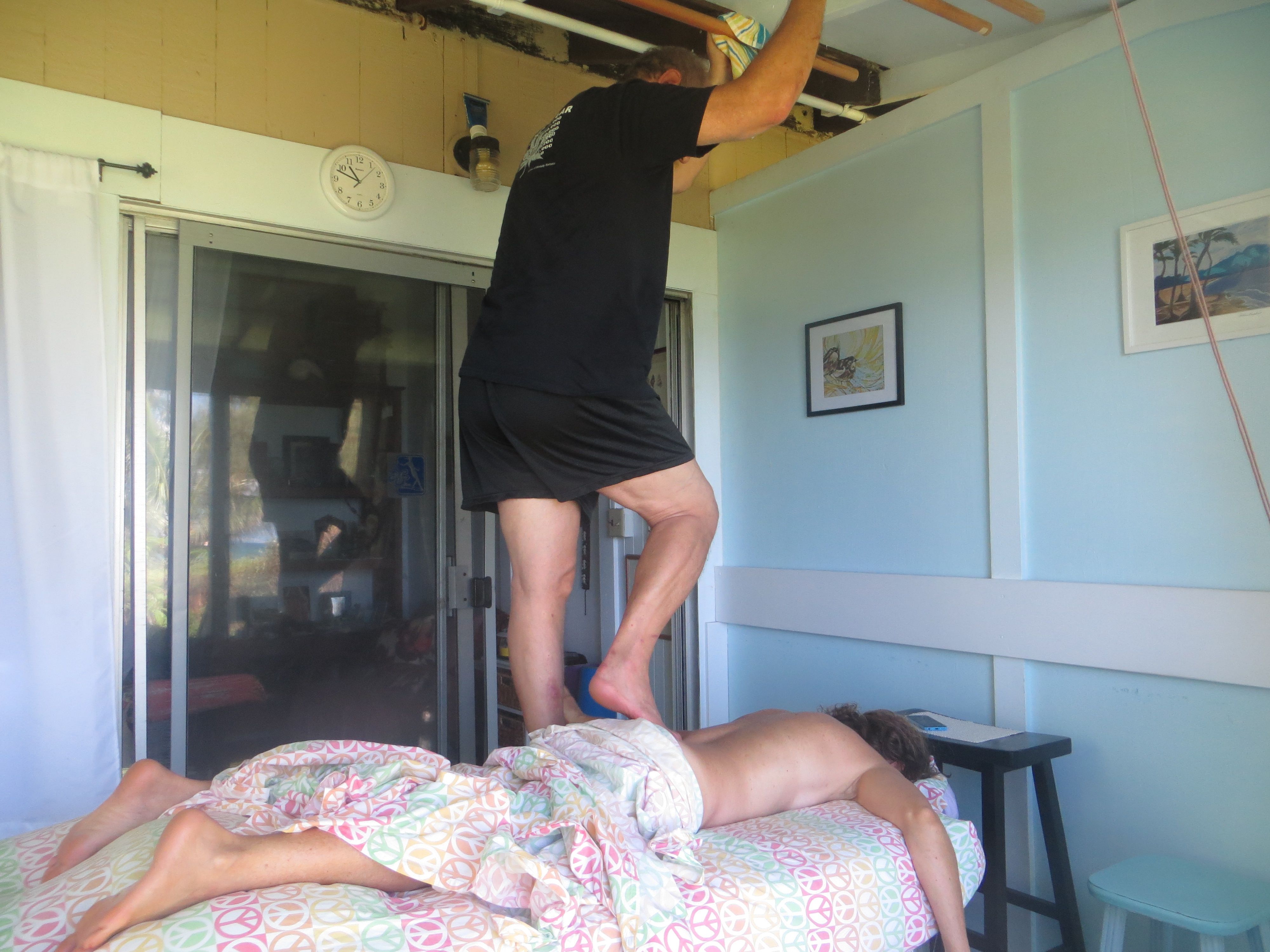 Jeff from Miami learning some new tricks.
Jeff told me his clients are loving Ashiatsu! And he is less tired after giving them all the pressure they want!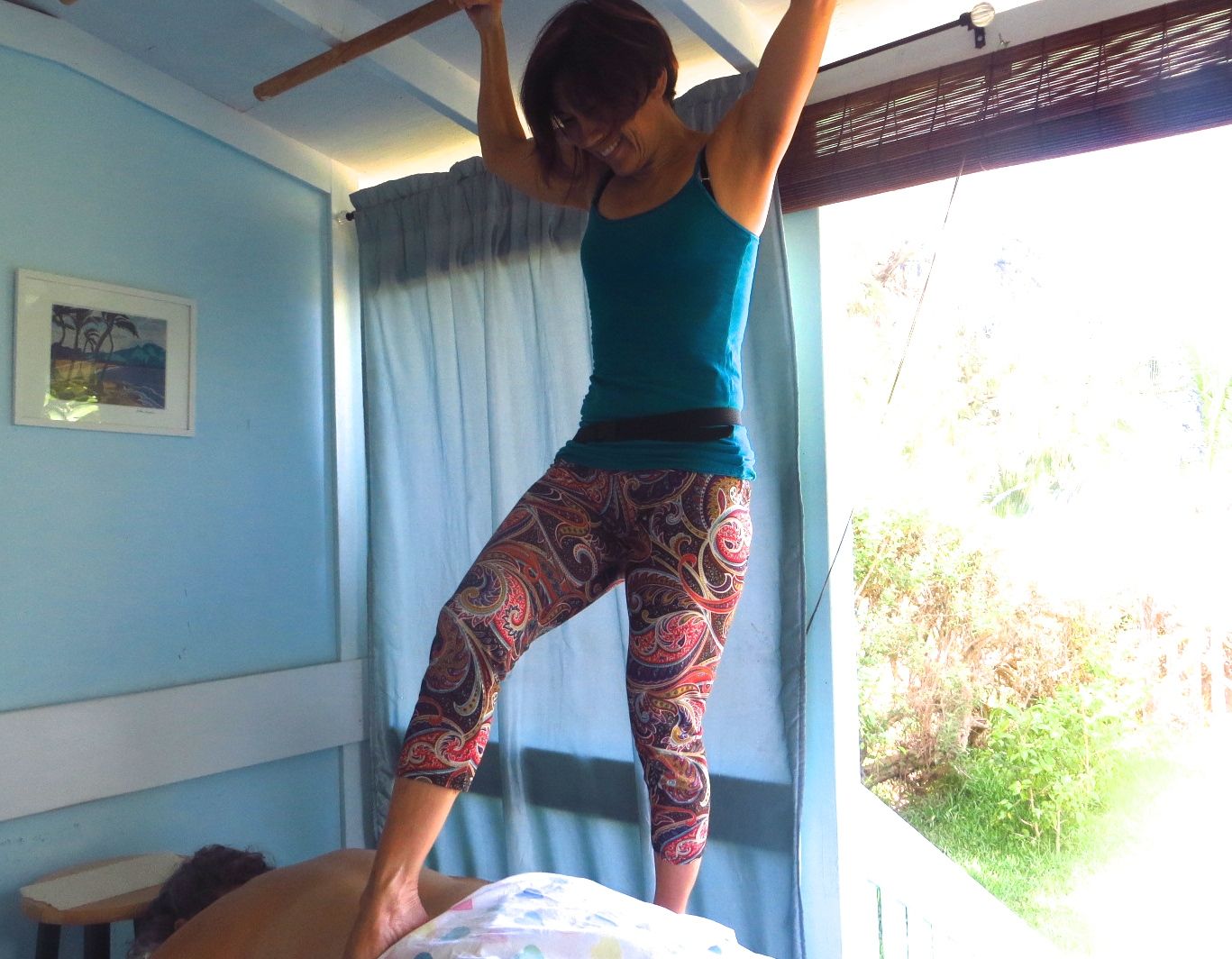 Laura Matsumoto from Honolulu. What does a small therapist say when a big guy walks in for a massage? No worries, I do ASHIATSU!
Laura's practice now is predominantly Ashiatsu!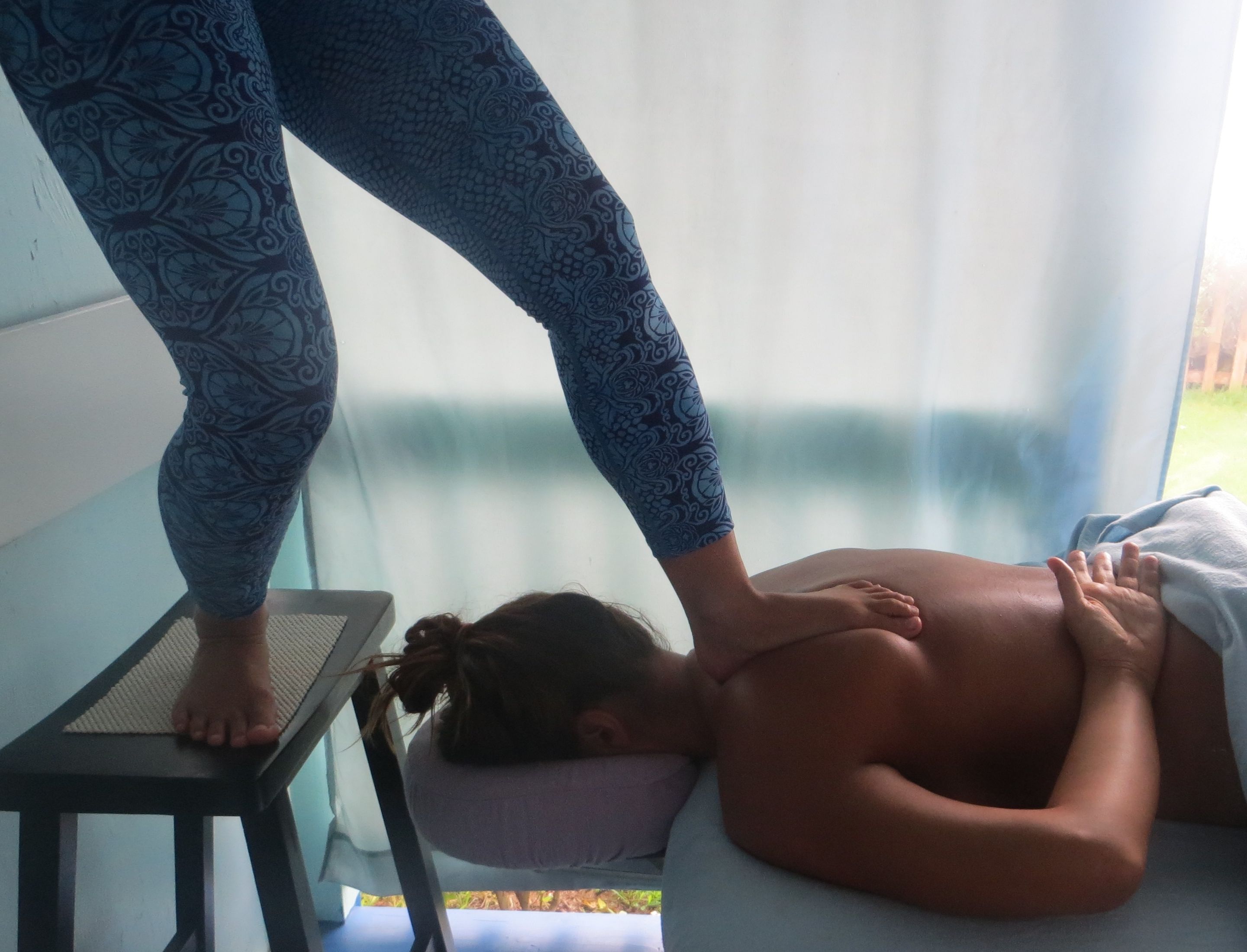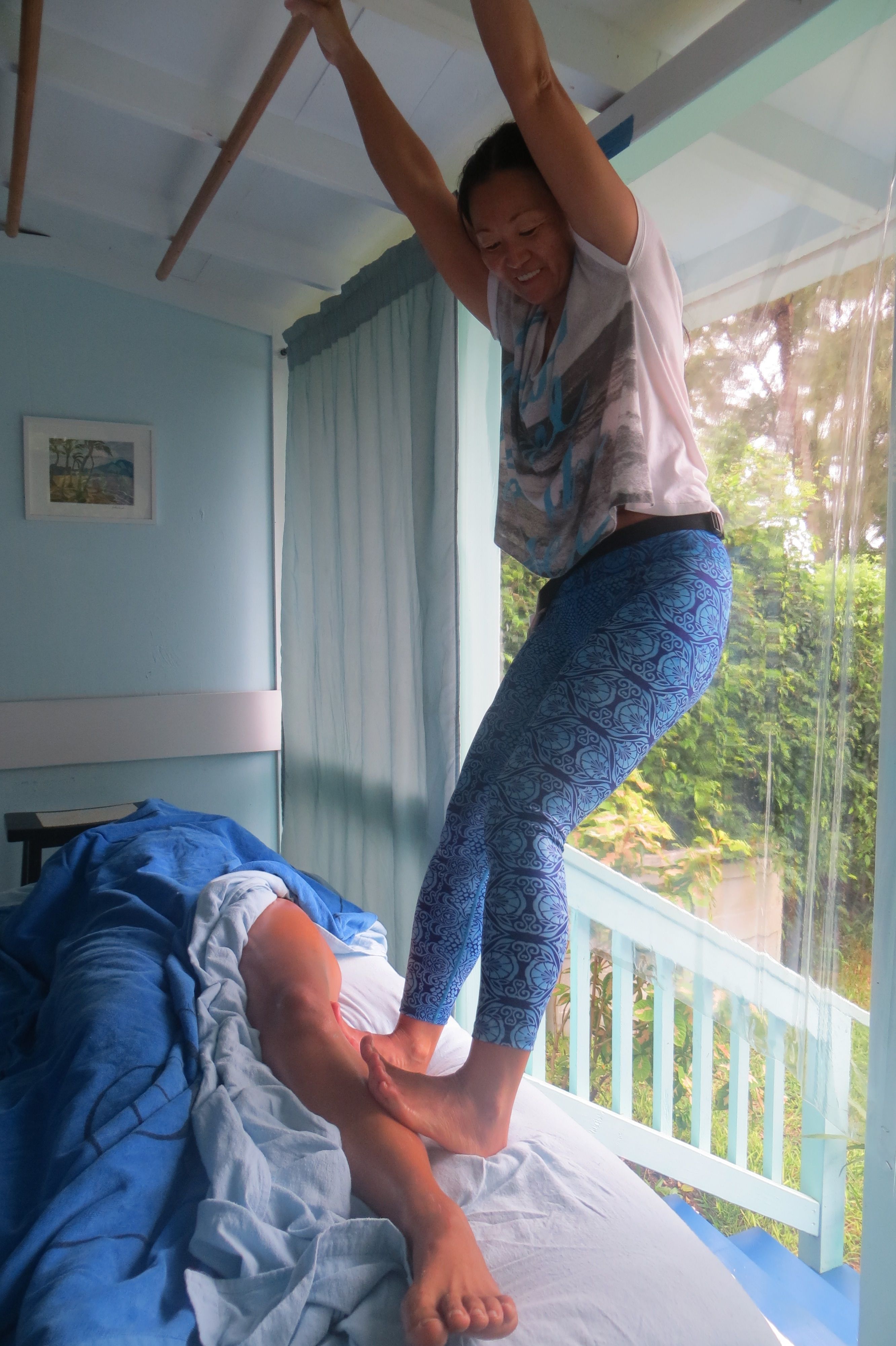 Chi from Haleiwa, works in Kailuia, SUP surfs everyday! And now look what she's up to!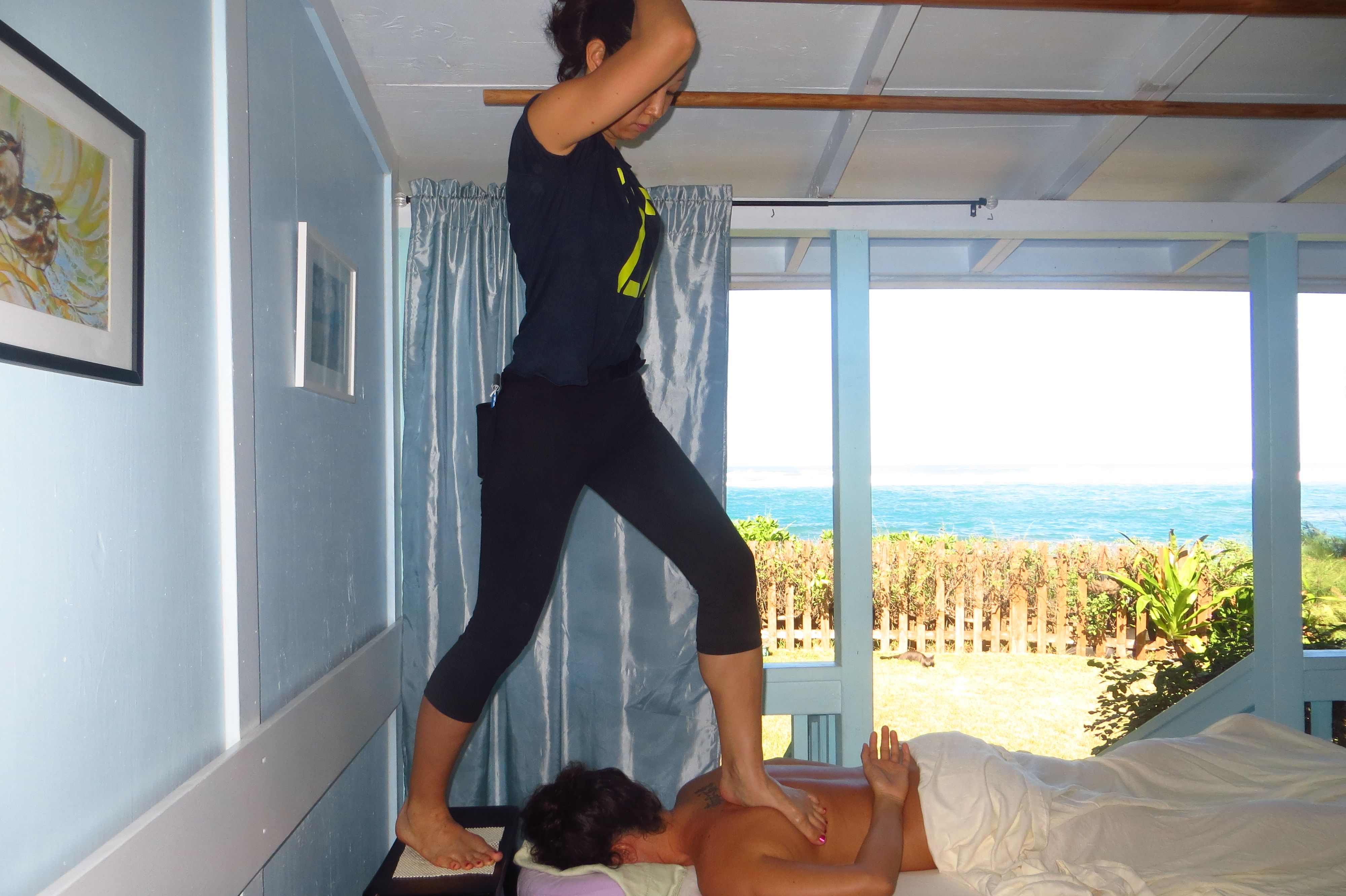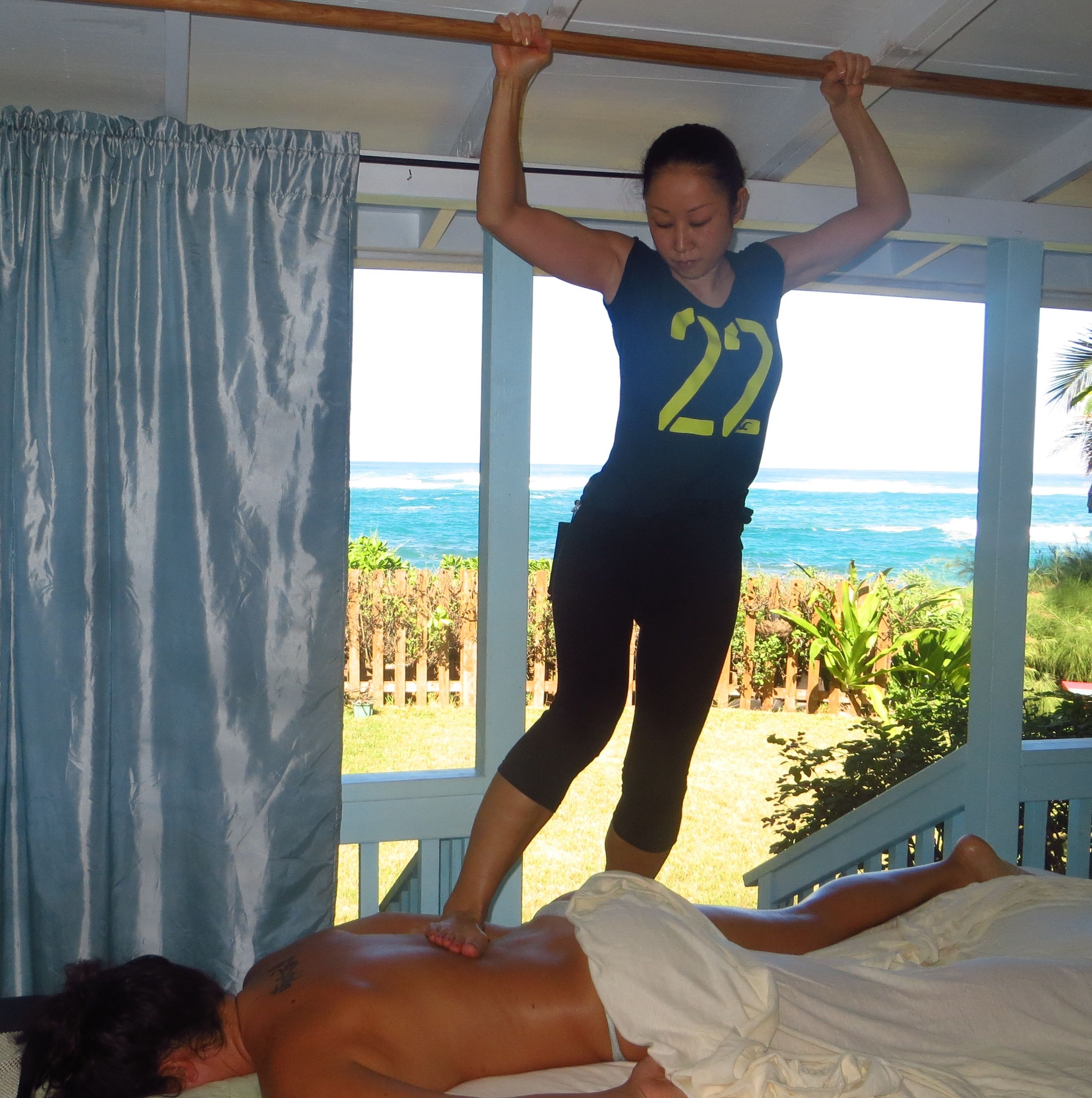 Rie Grow from Ewa Beach looking like a pro at Ashiatsu!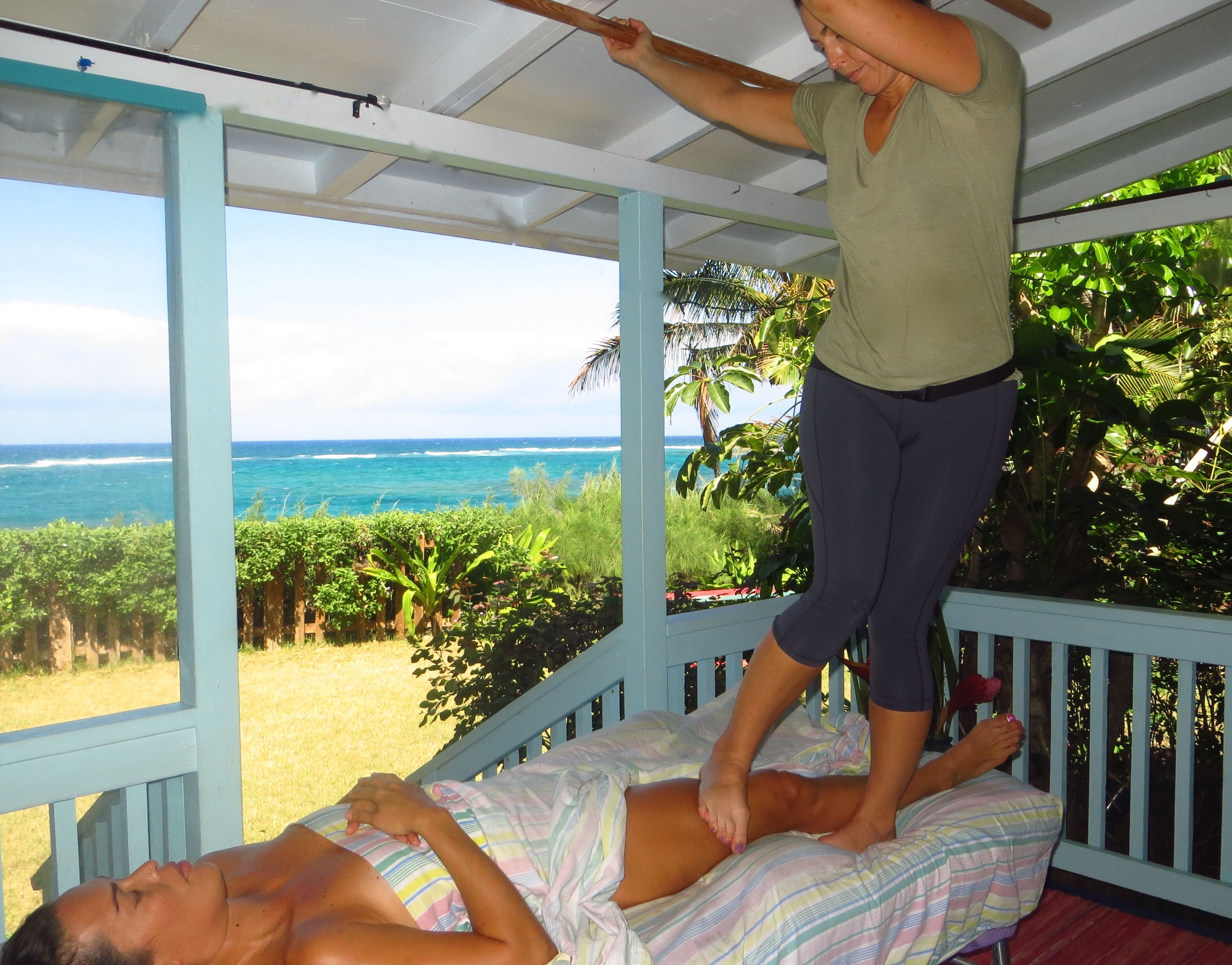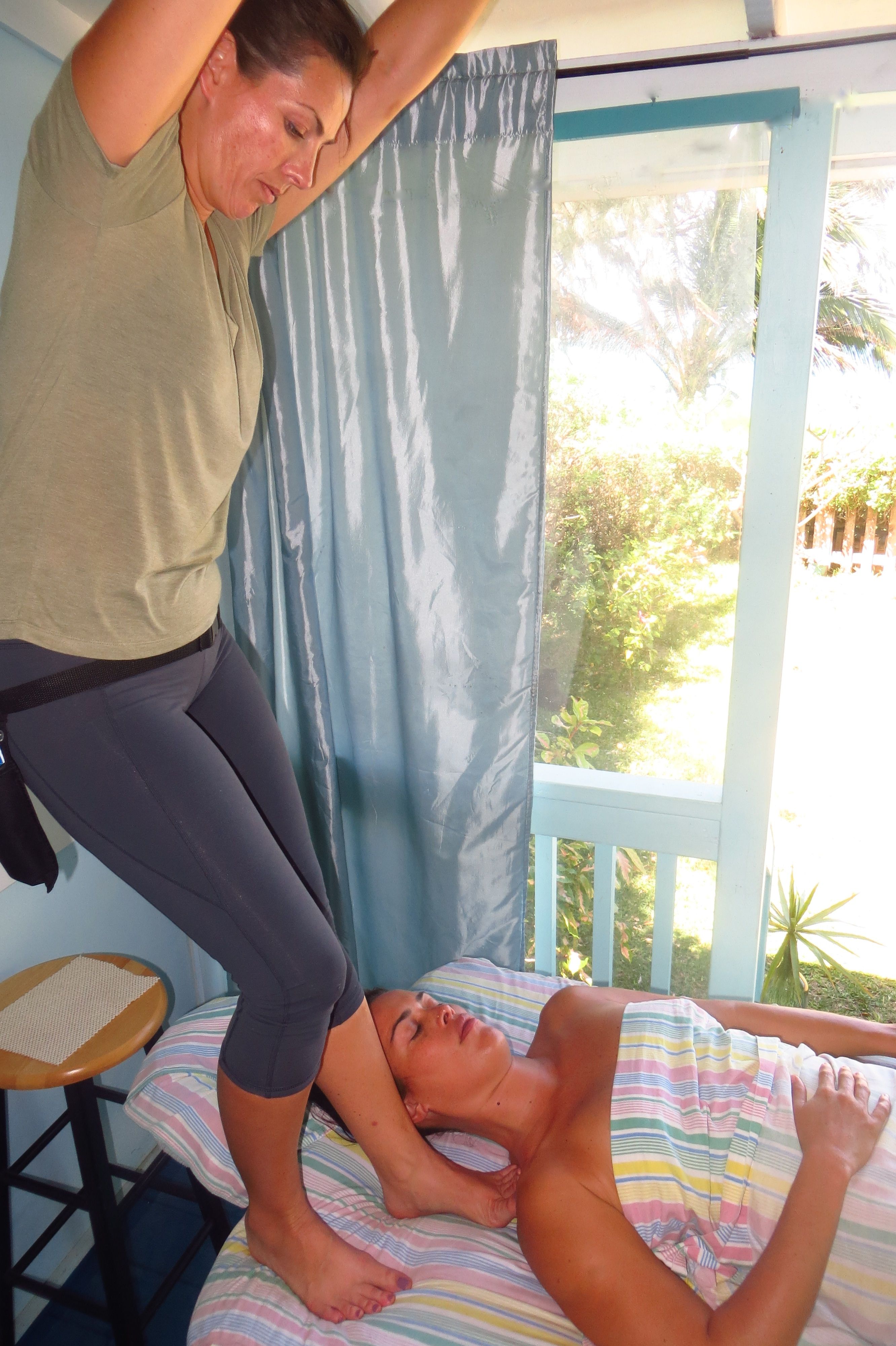 Julie, living in Kailua, but from many places, is happy to be adding ashiastu to her massage tool box!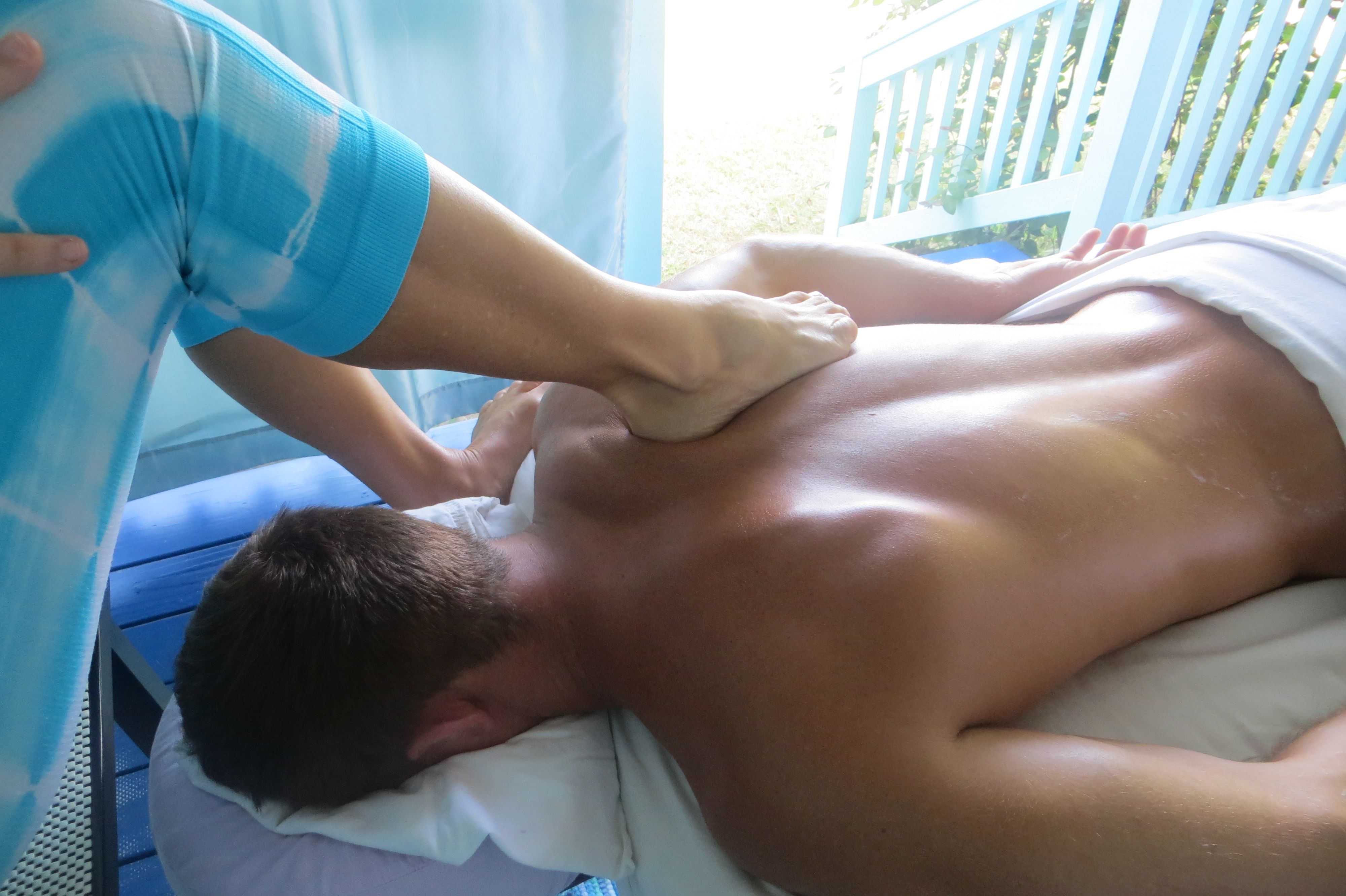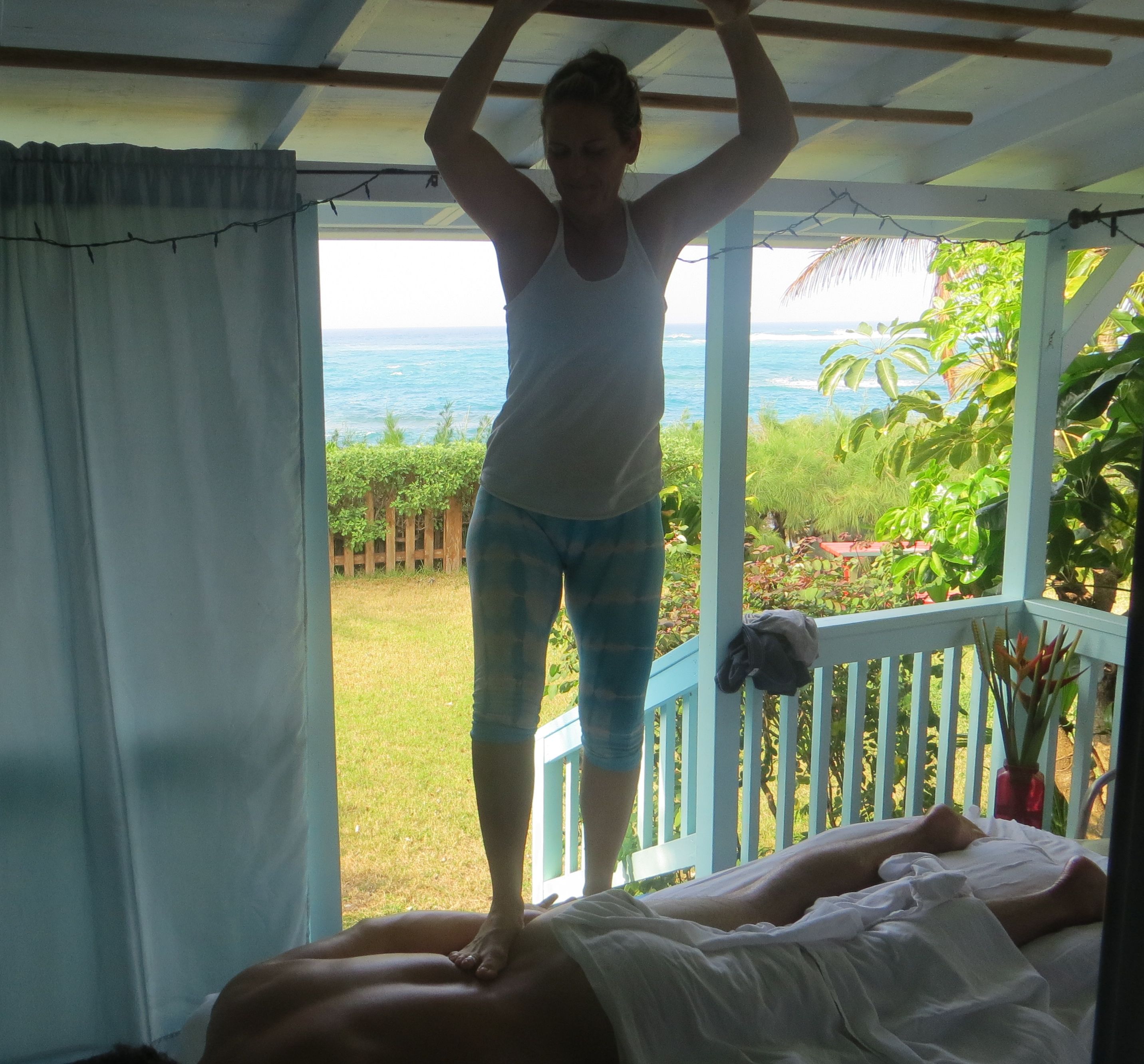 Carrie from the North Shore works on a lot of surfers and now can offer them some foot work that they will really love!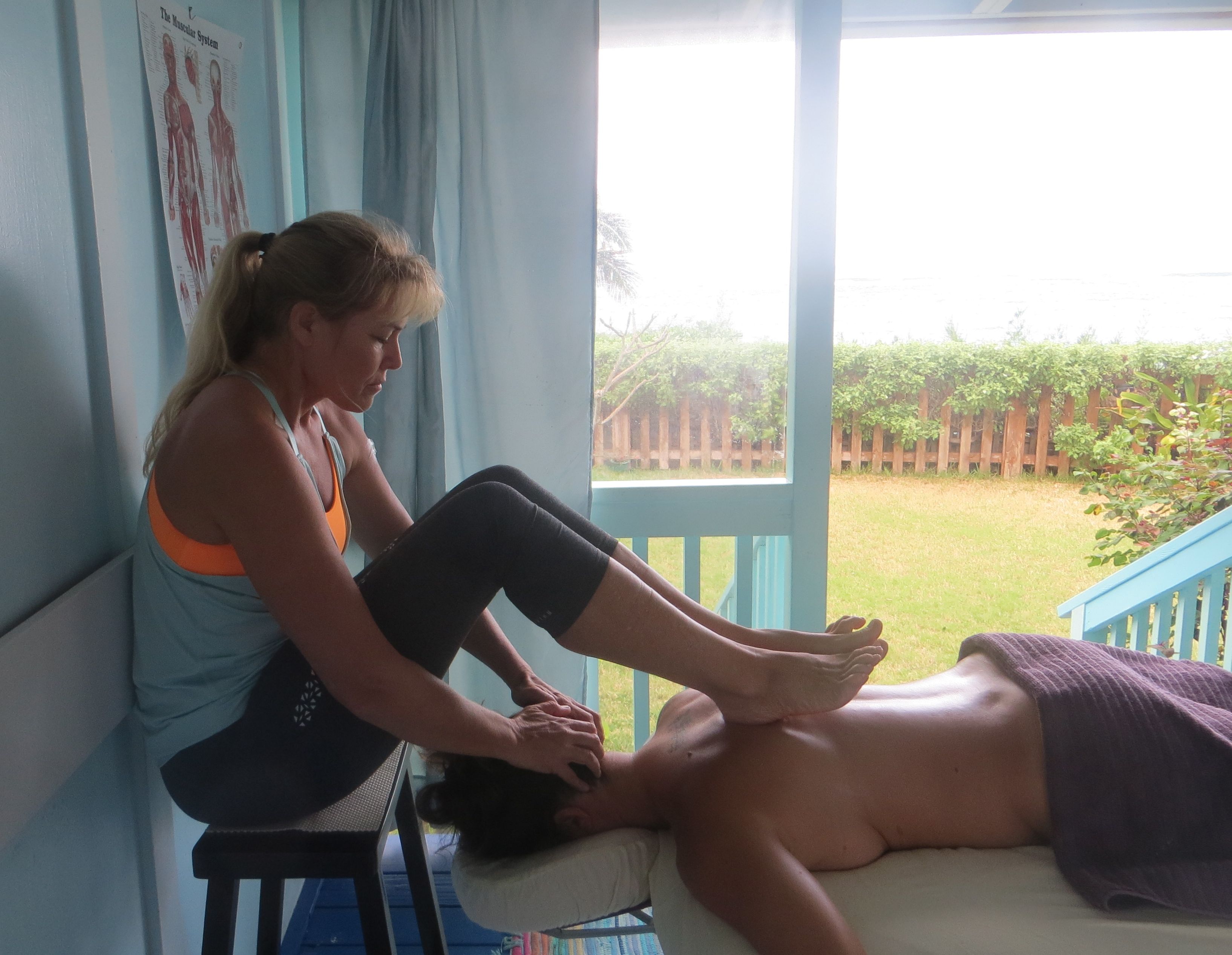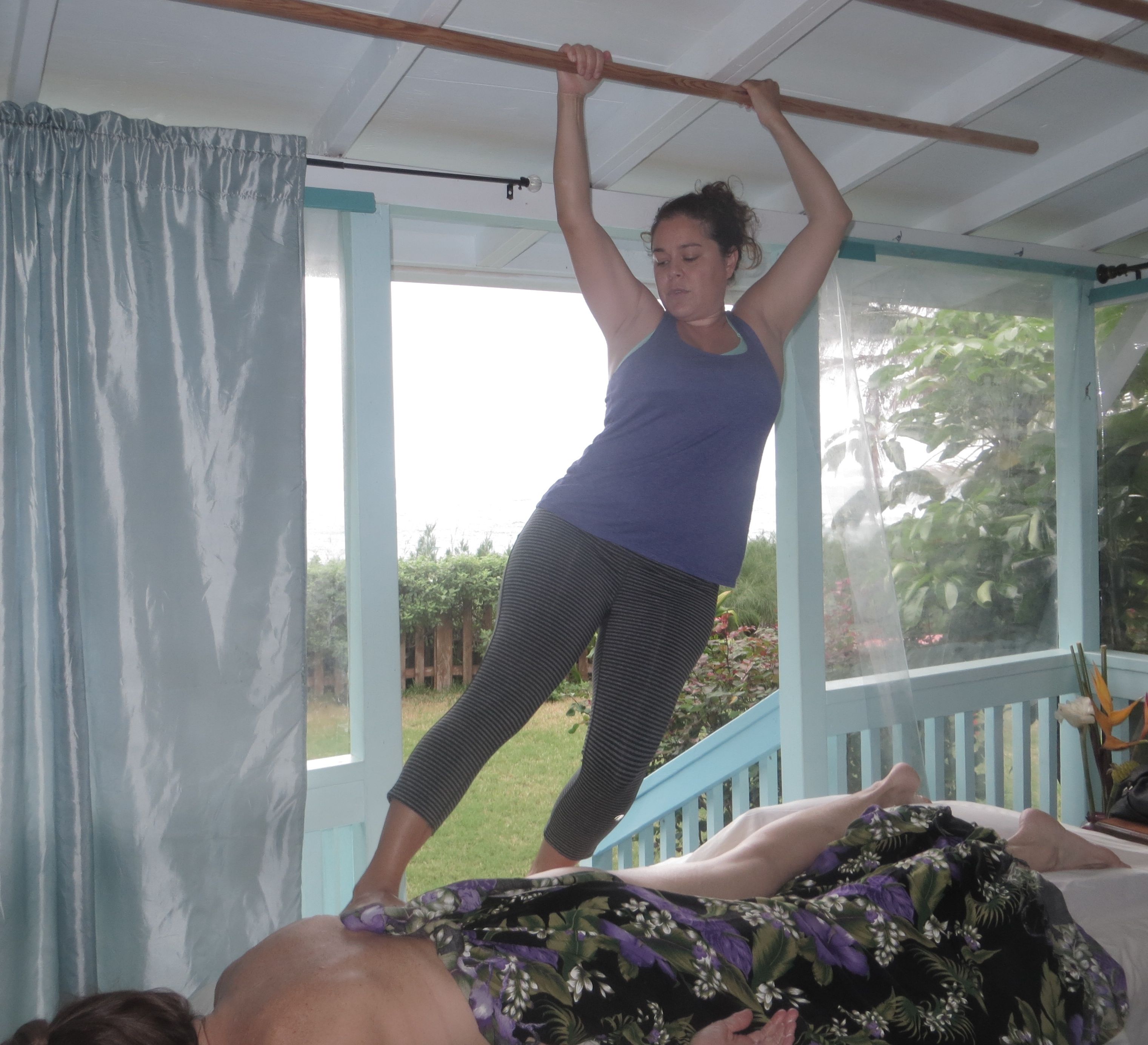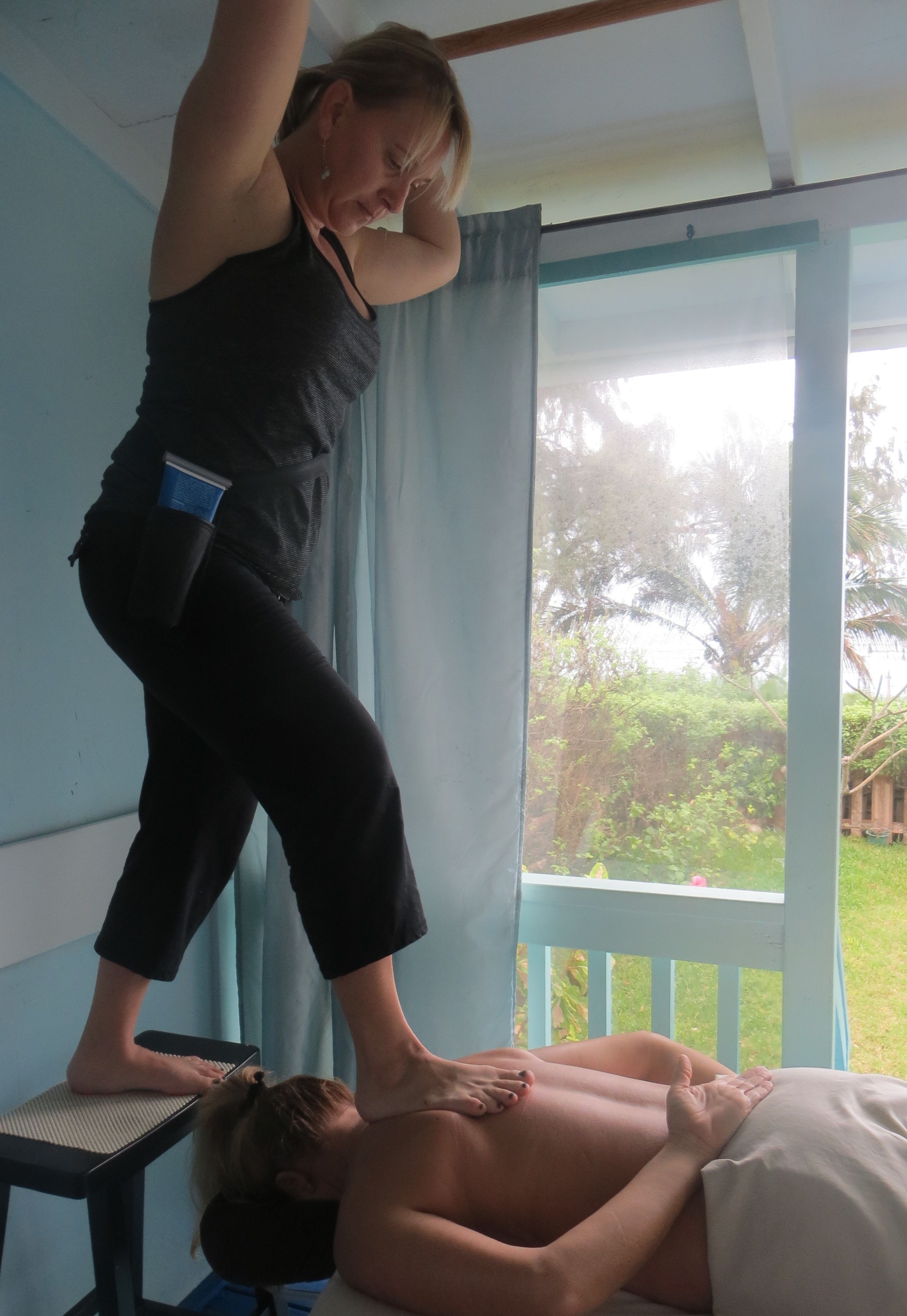 Nalu Kinetic Spa at Turtle Bay Resort, on the Fabled North Shore of Oahu, adding diversity to their menu! Ashiatsu will help these therapist give clients the deep pressure they want without straining their hands and arms! Easier for the back too!
Pictured here is Francie, Lisa, Jen, Maria, Jo, and Eva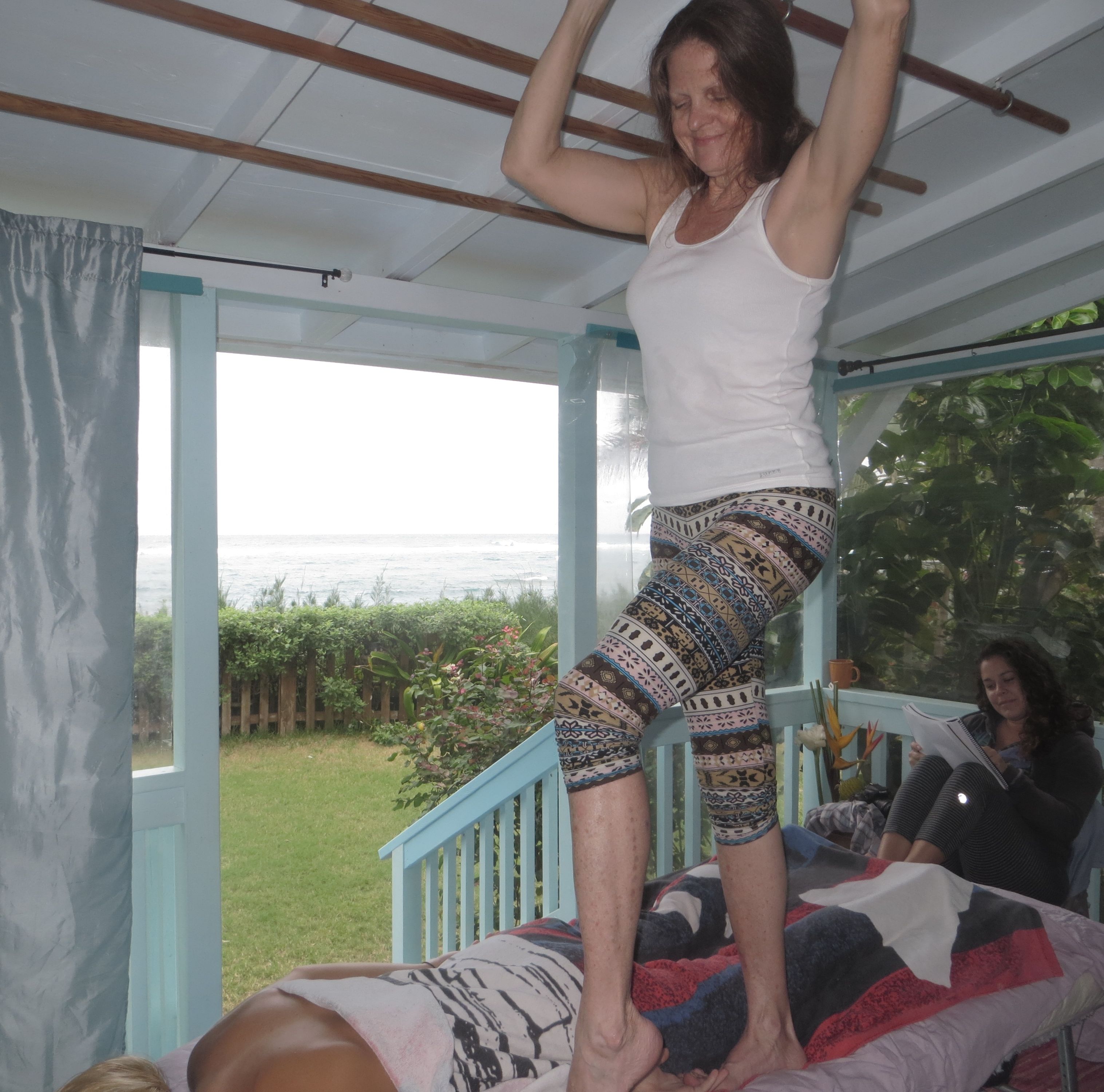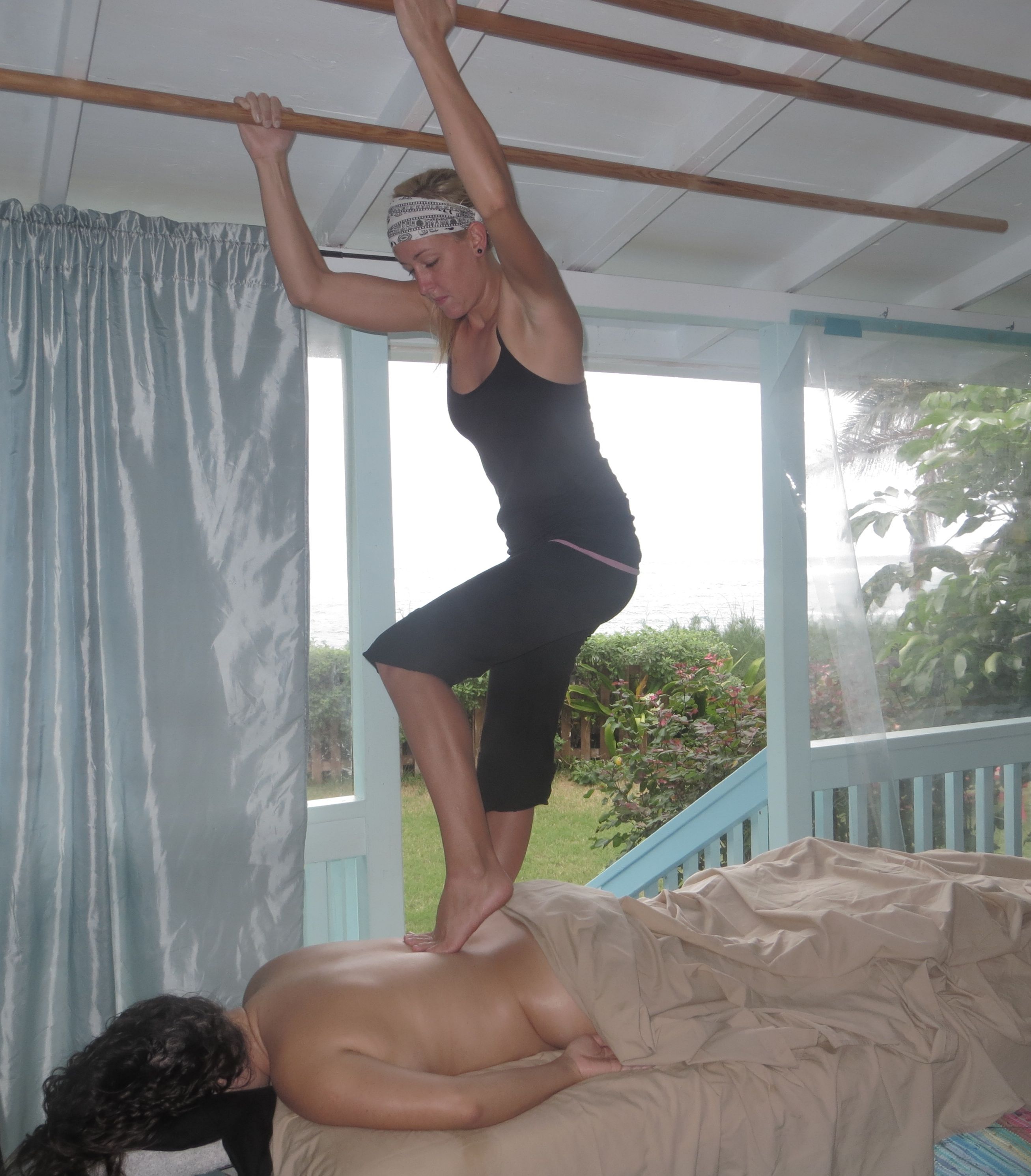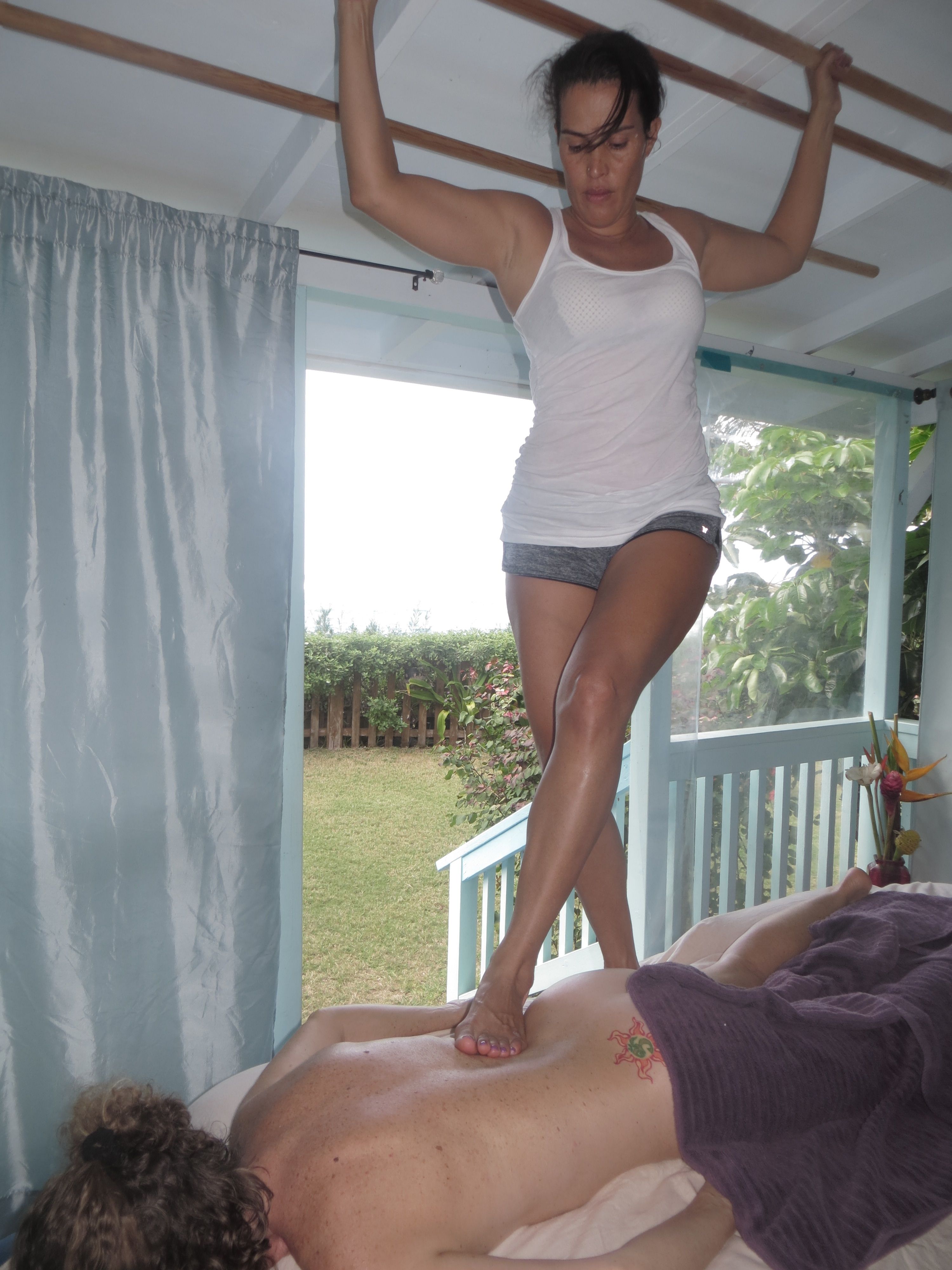 Jenni from Chico, CA has a busy private practice, and her clients will be really happy now that she is adding ASHIATSU!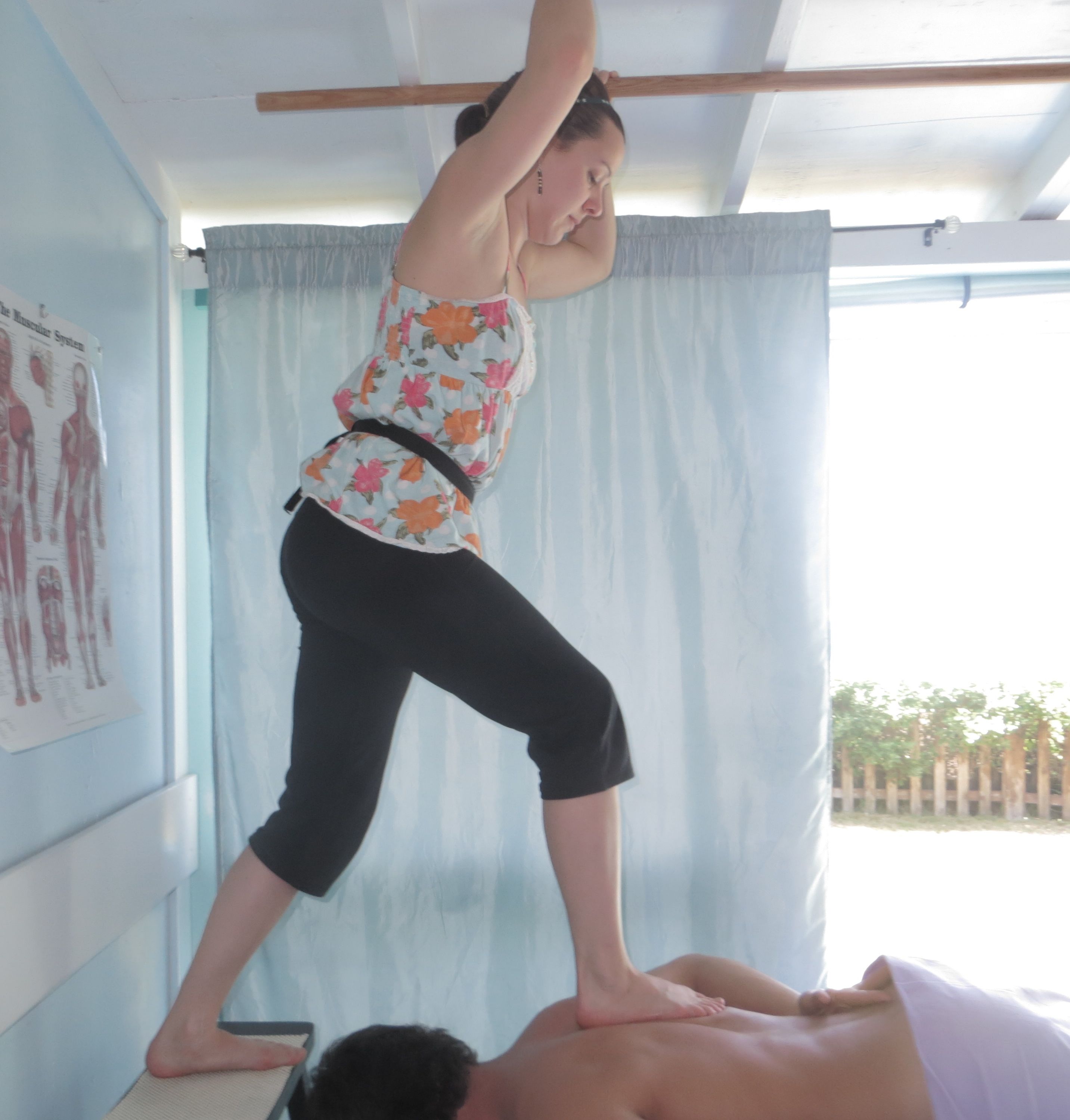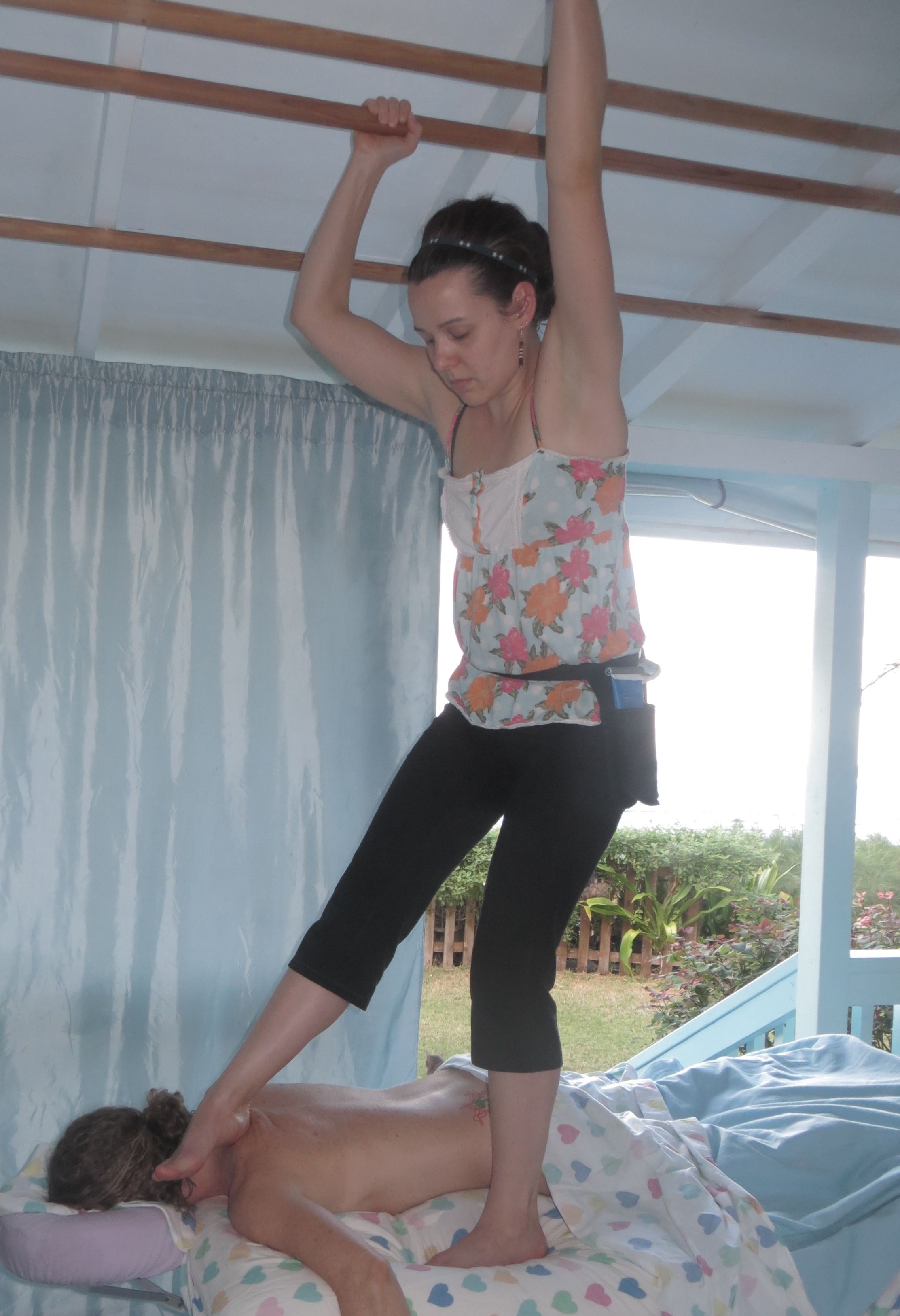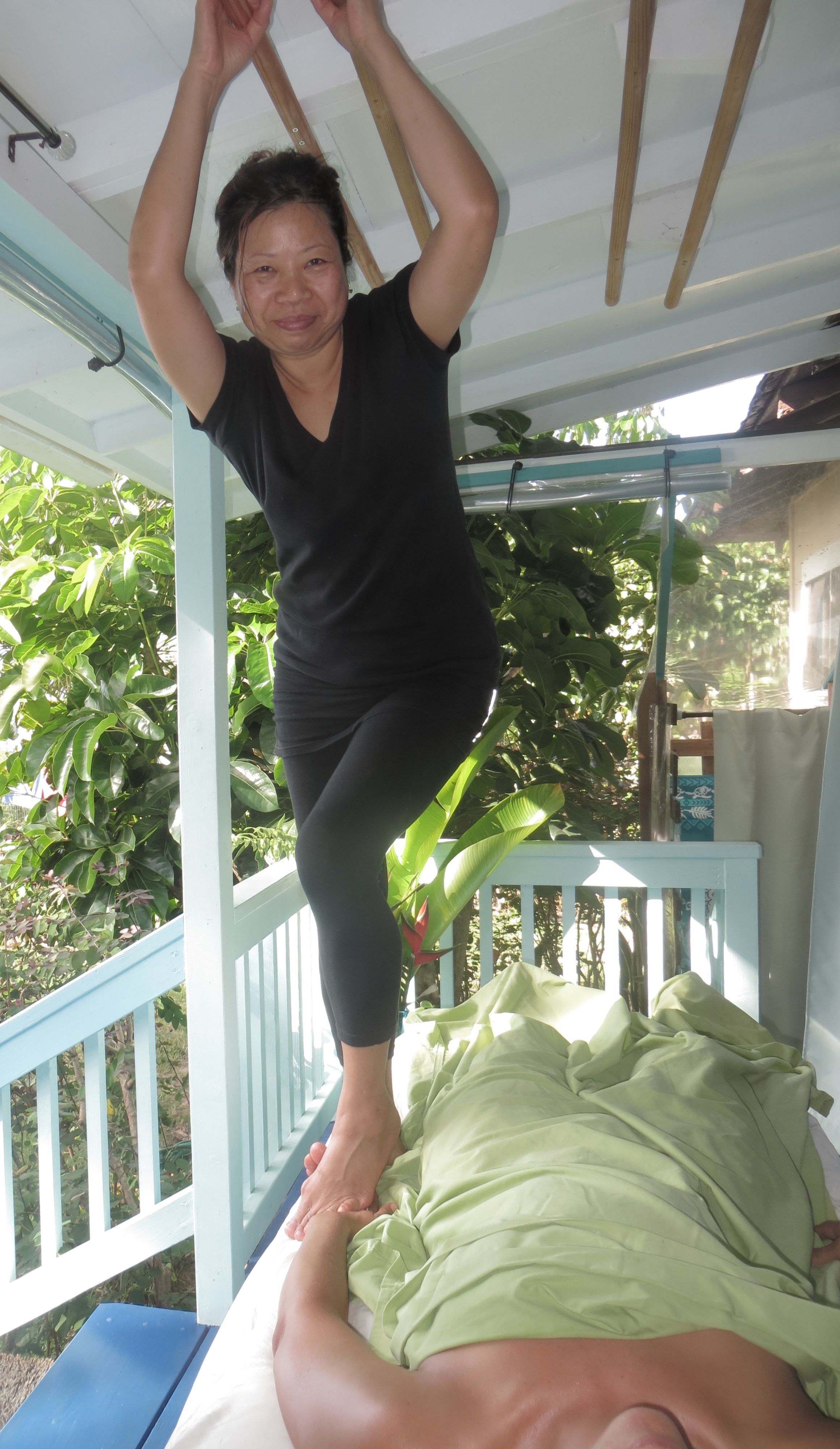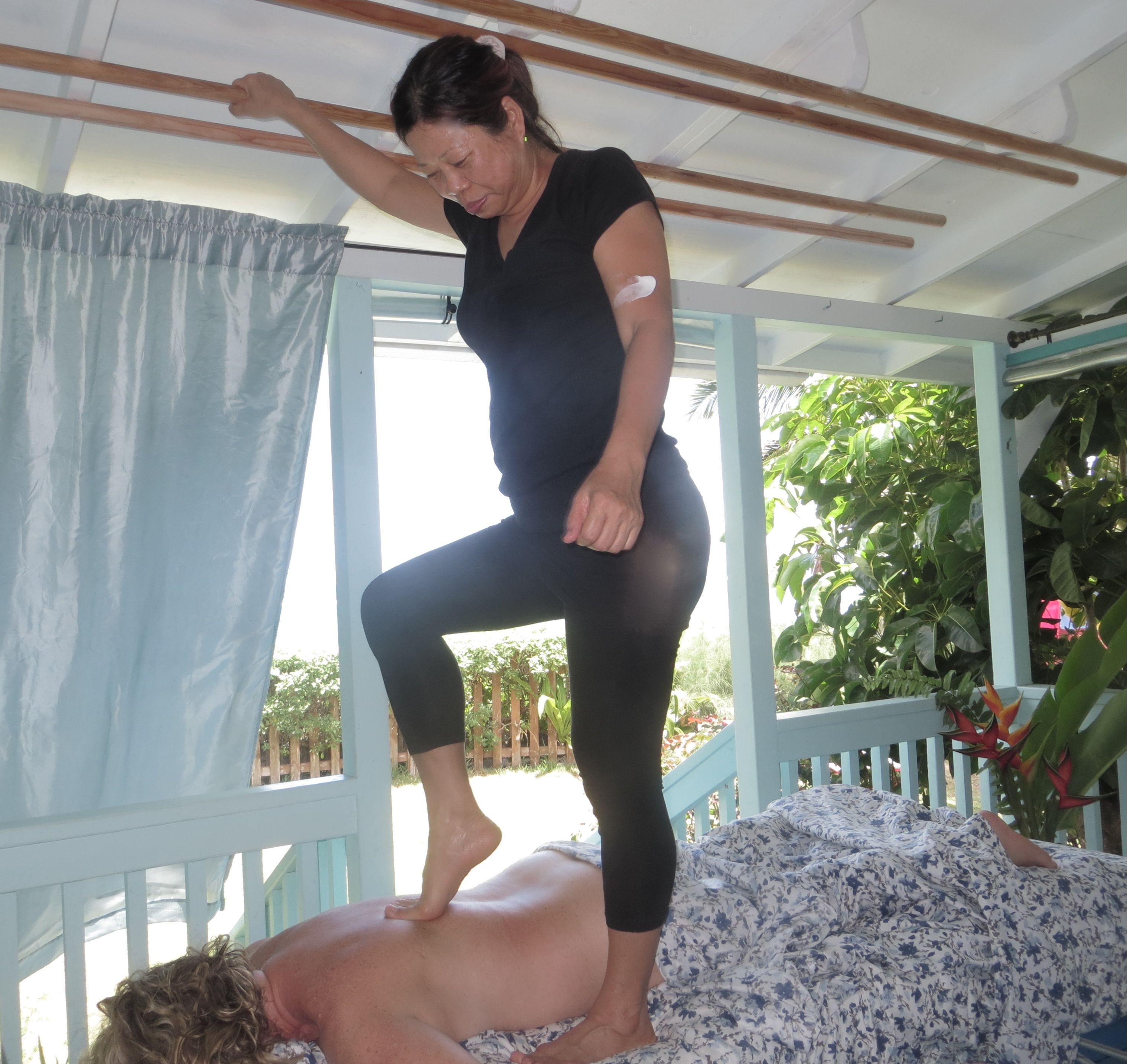 Sharon from Aiea showing she has style! One on One classes gives you all the time you need to get the moves down. Or take the class with a colleague, your spouse, another therapist and still have the attention on you learning how to use your feet!
Like Melody and Steven, husband and wife, now can practice ashiatsu on each other!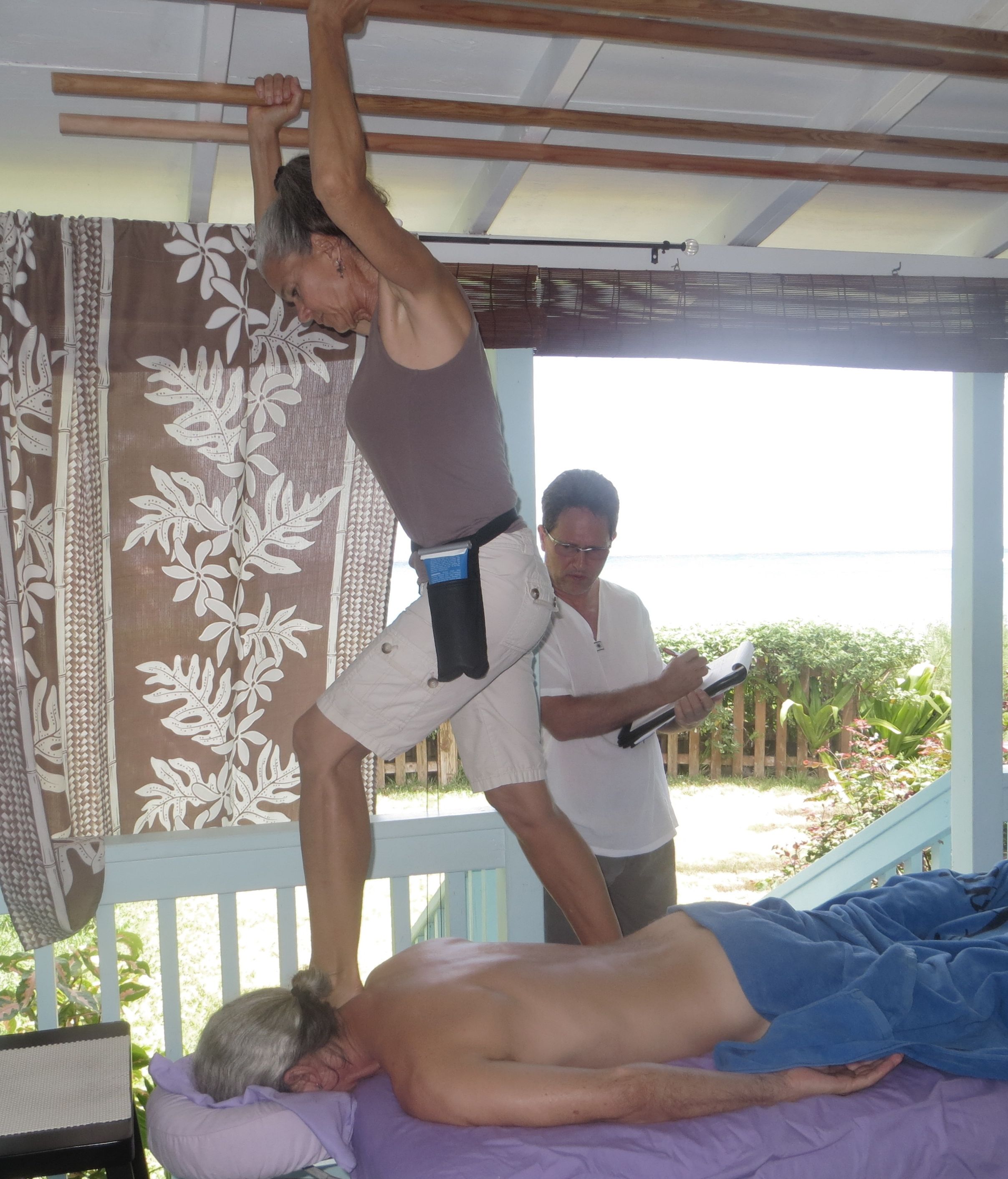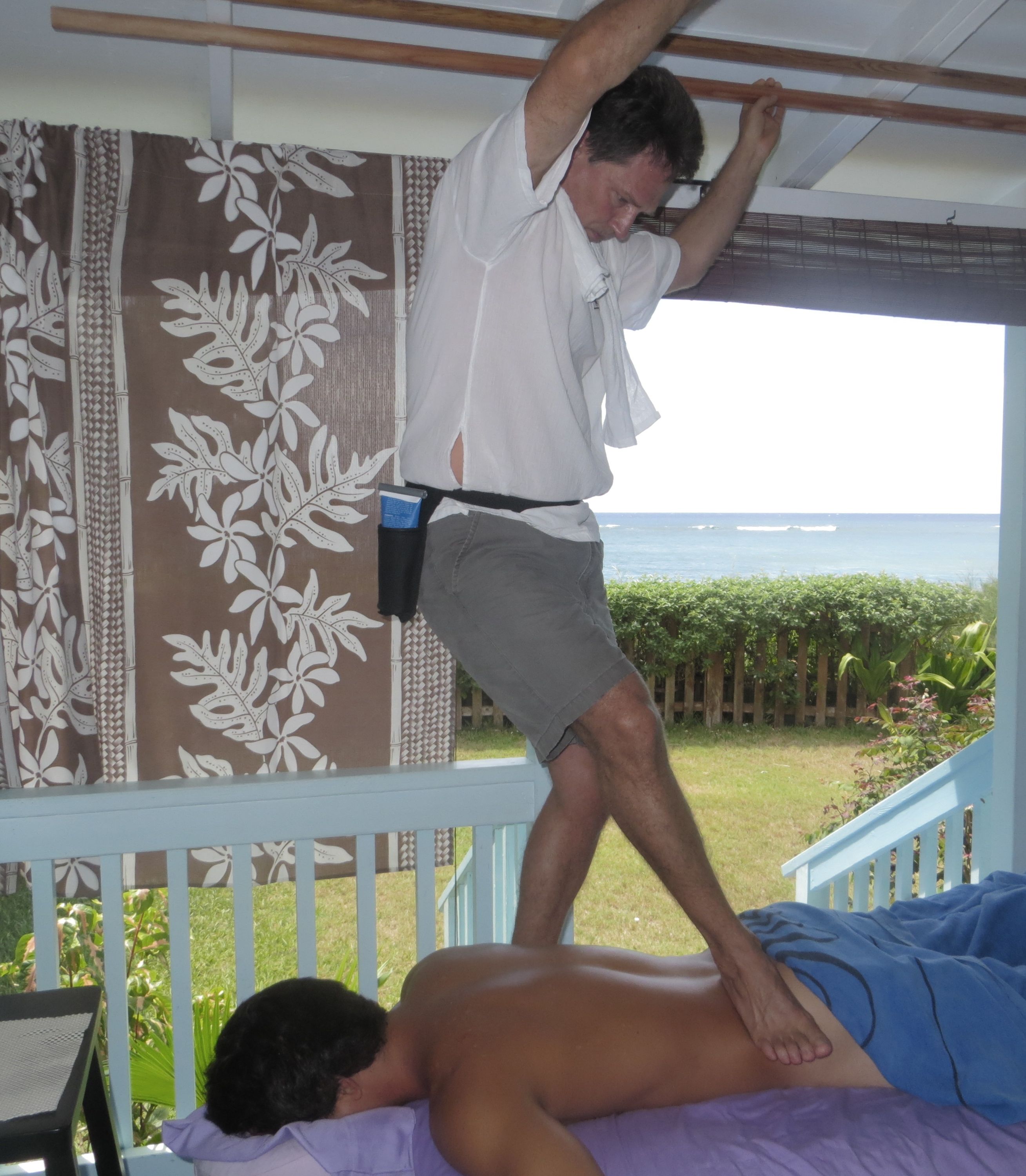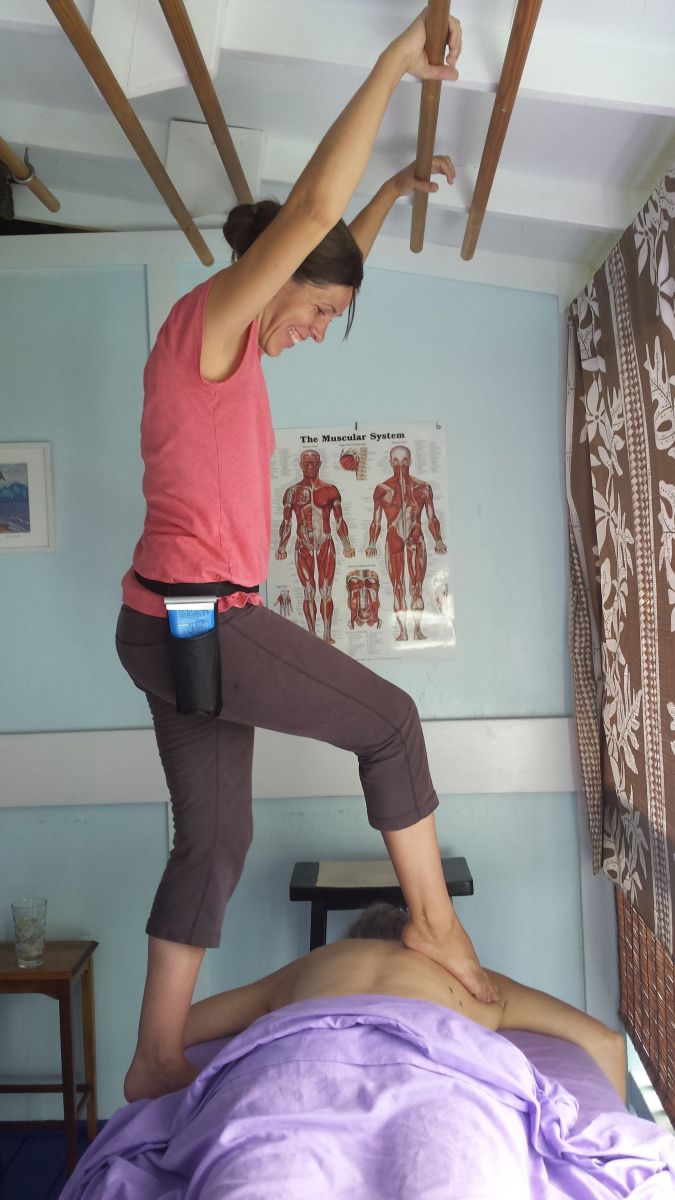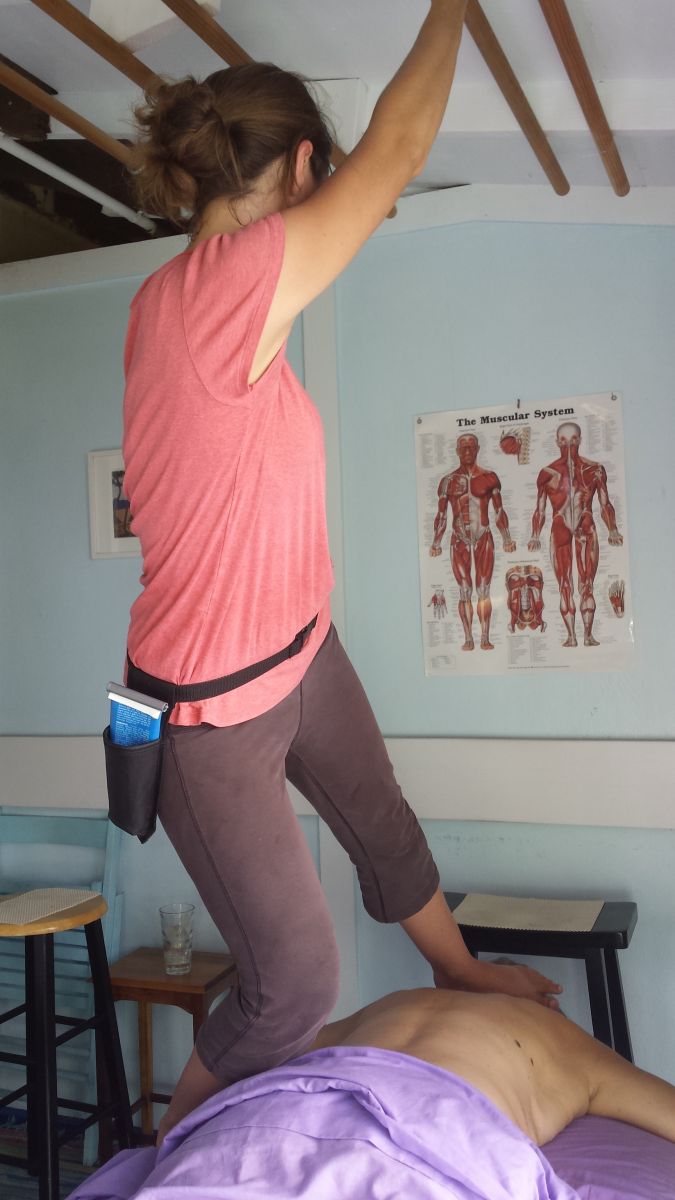 Kelly is a super mom! And massage therapist! She and her 10 year old daughter came to Hawaii for a vacation, and Kelly was able to take 2 days of Ashiatsu, making it a tax deduction. She wrote a post card to me that said "Aloha Abby, Thank you for your amazing class & wonderful hospitality! We enjoyed our time with you in the North Shore! Mahalo Kelly and Lizzy"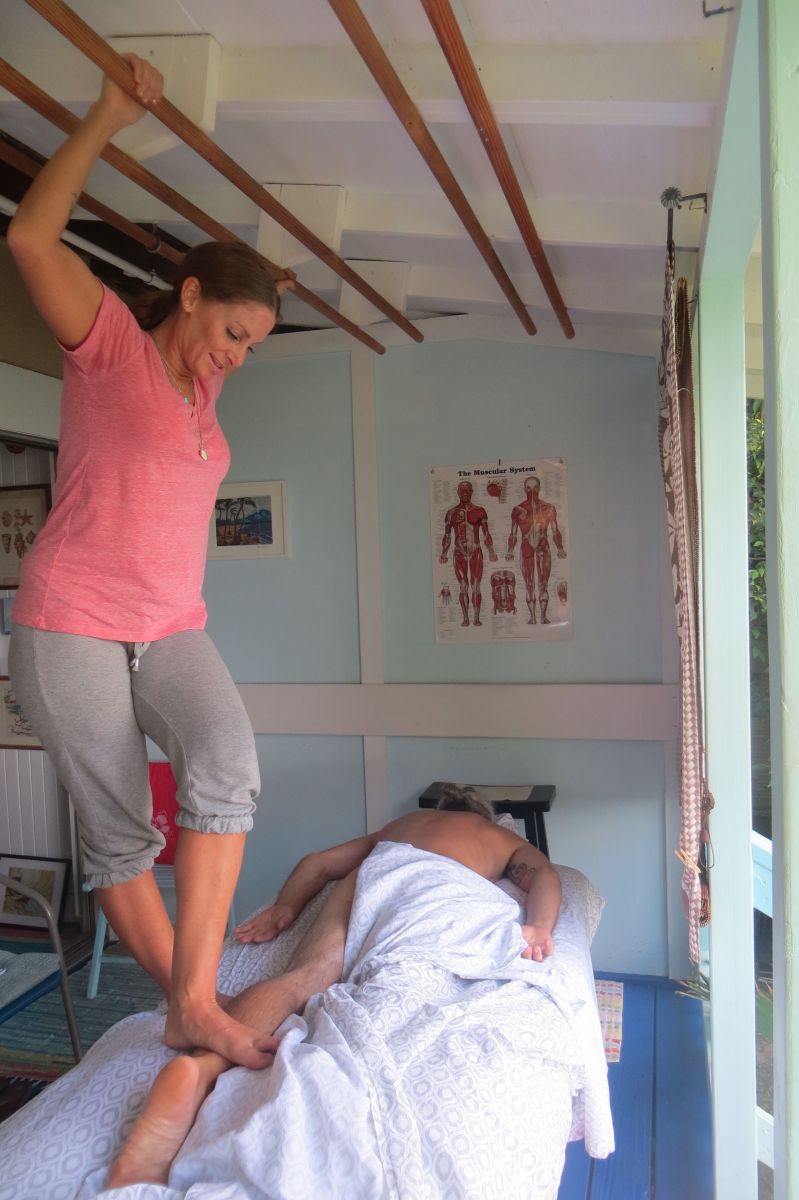 Alison came to the North Shore for a vacation and added a bonus by taking the Ashiatsu Course and adding value to her everyday practice!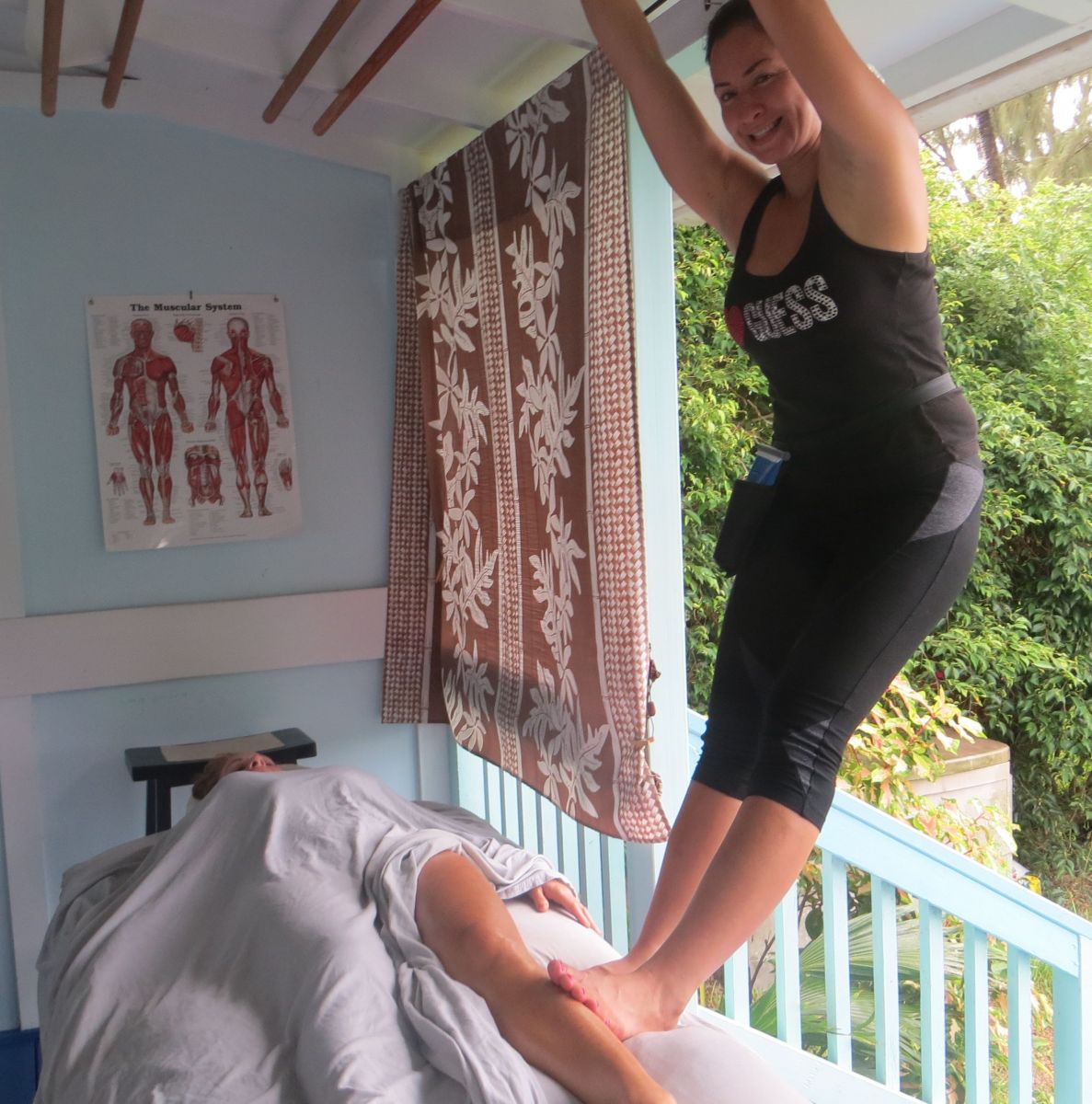 Kimberly has been a massage therapist for almost 15 years and learning ashiatsu was on her continuing education list! So now she is ready to work with her feet and her clients are so lucky!!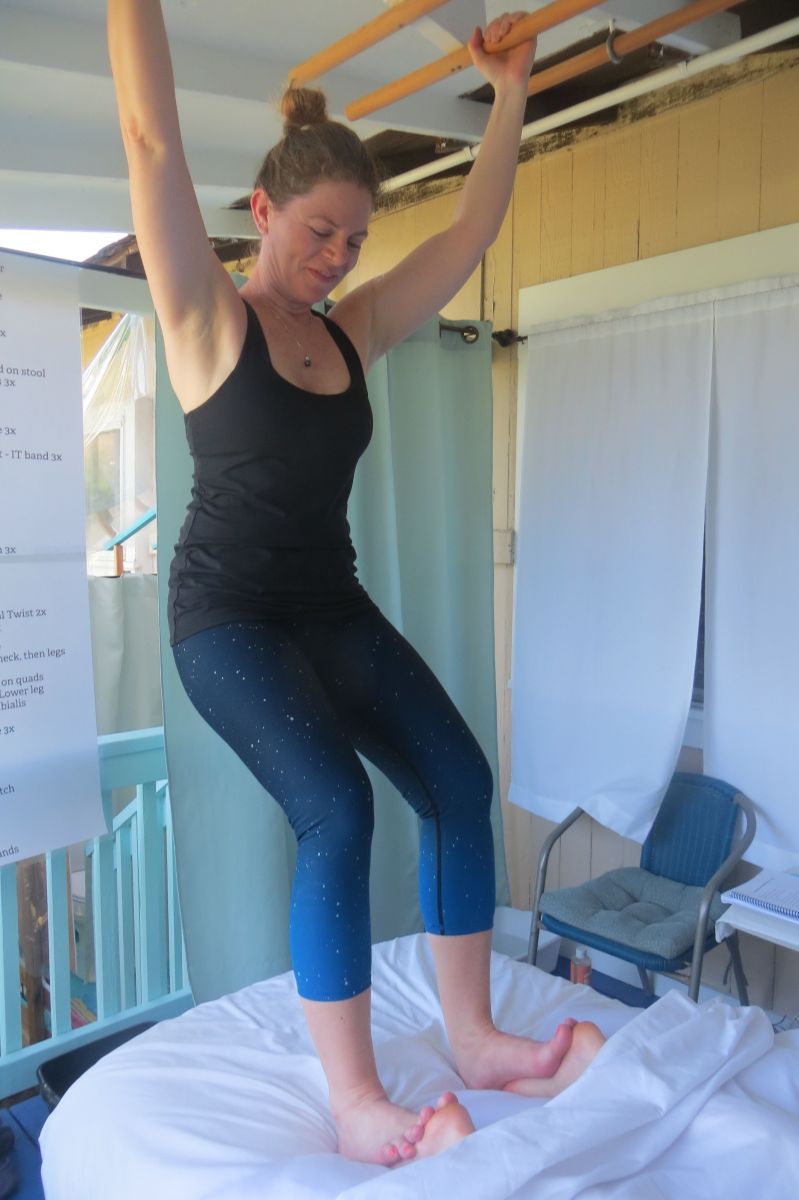 Samantha will stand out in Portland now that she has learned how to use her feet giving an excellent ashiatsu!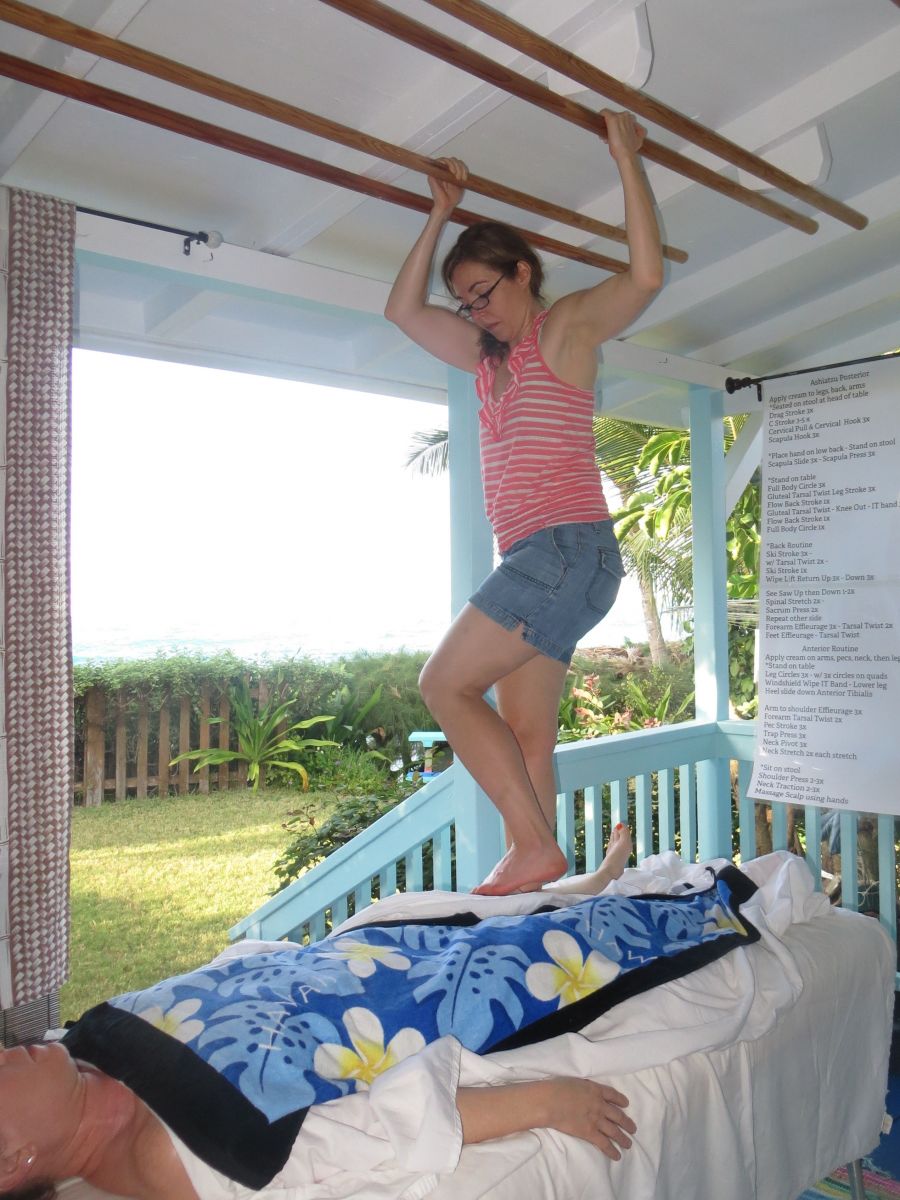 And Jennifer, from Raleigh, showing how easy to give broad firm very comfortable pressure! Their clients will be very happy to try this awesome technique when they get back home!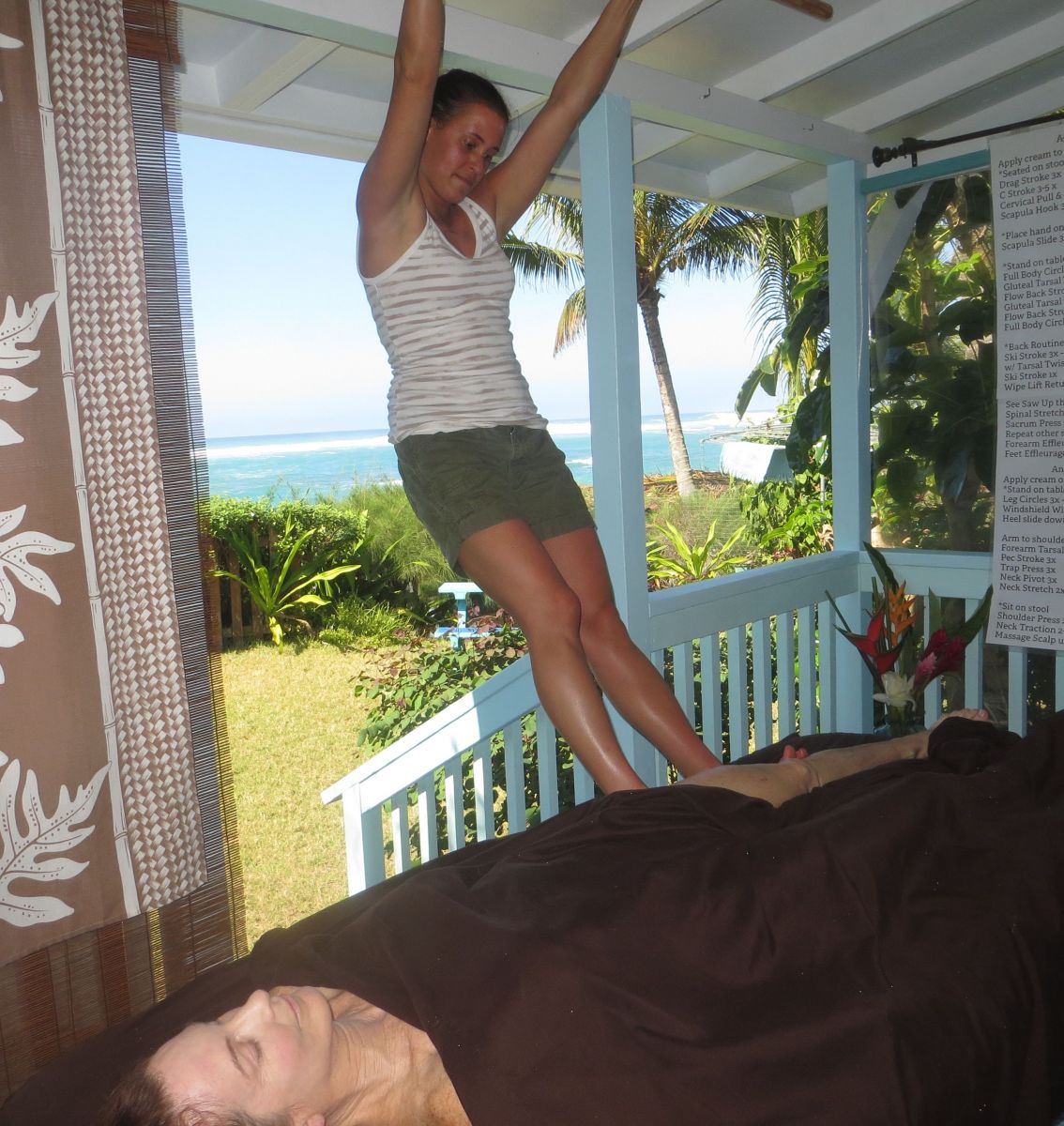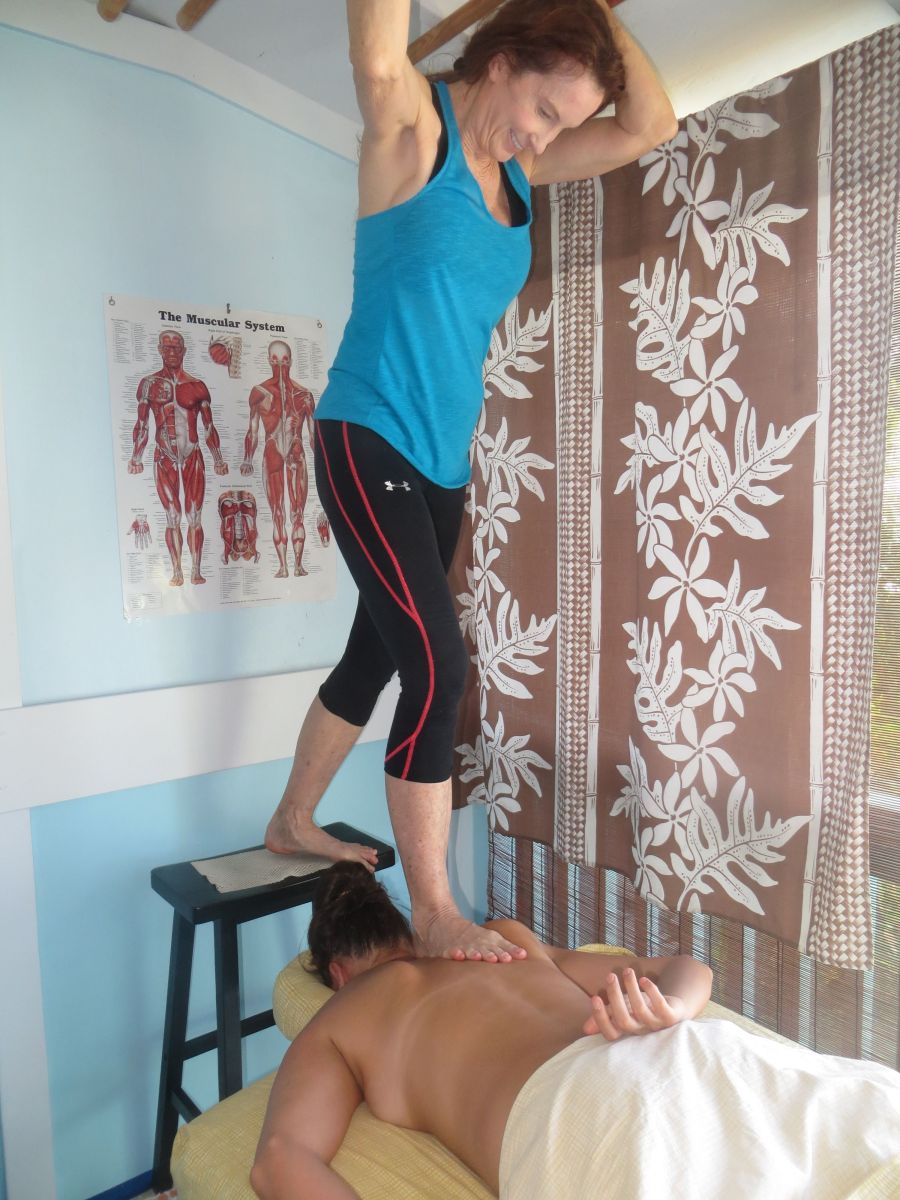 Kelly took a break from MN weather and took advantage of a continuing education course in Ashiastu! She's very excited to add this to her practice back home! For Kathryn, who has practiced deep tissue massage for many years, is excited to learn Ashiastu to use her body a new way of giving massage treatments that is very effective and gives just the right amount of pressure! Just heard from Kelly that she has already installed bars at her office!! So Awesome!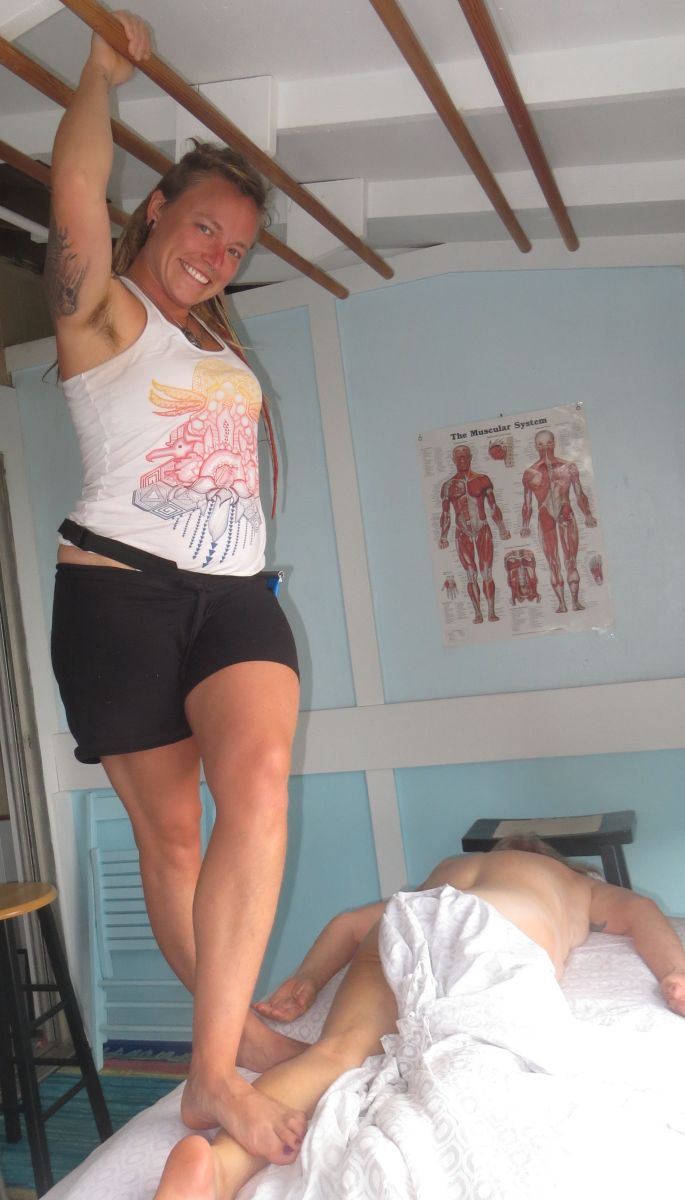 Amber is very talented in more than just massage! Adding Ashiastu to her list of modalities is a perfect blend! She came to Hawaii to get her Yoga teacher training also!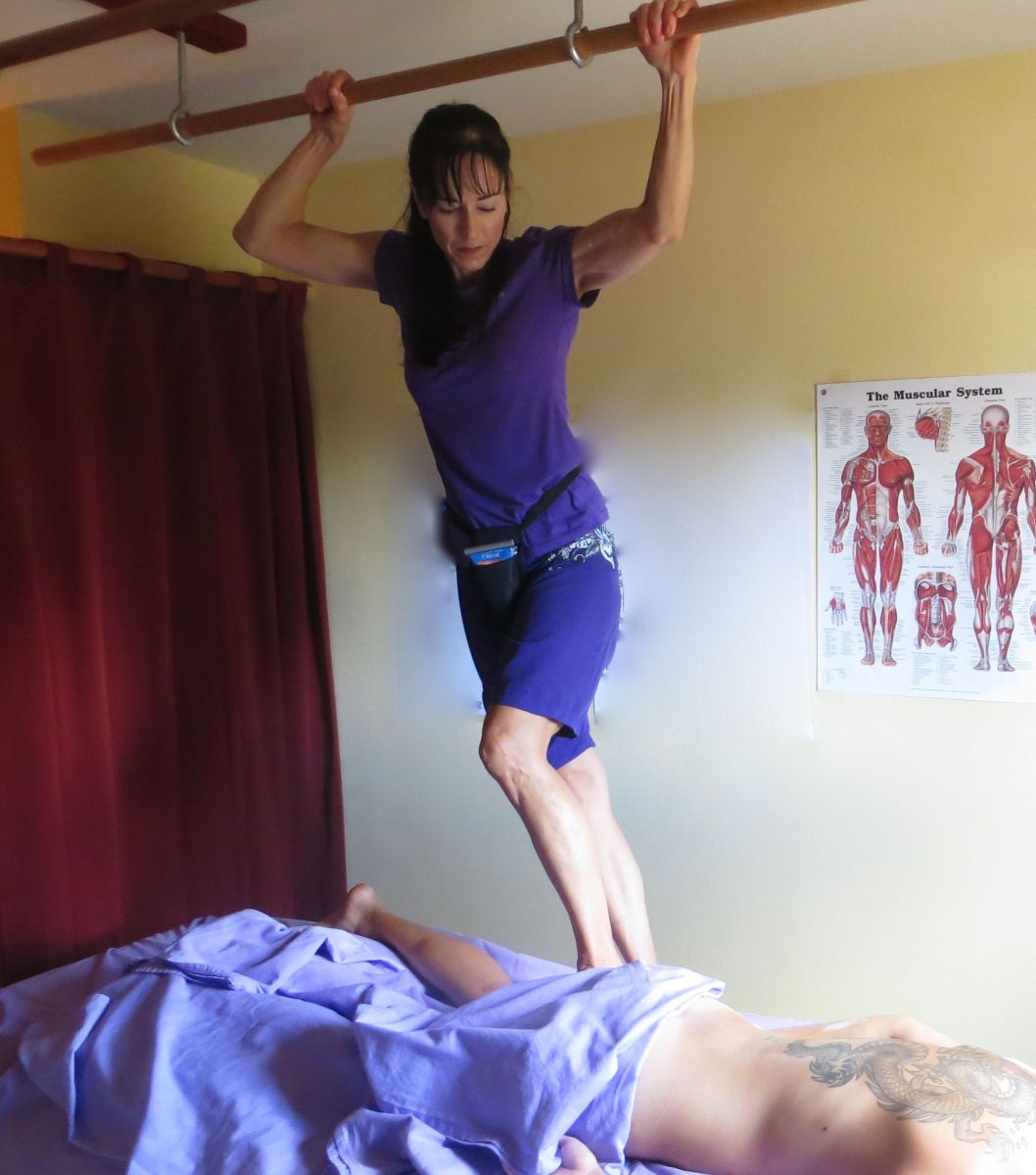 Sherry wears many hats in the healing and fitness world, and has now added Ashiatsu! As she saw all the possibilities with using her feet, new ideas and excitement came to her.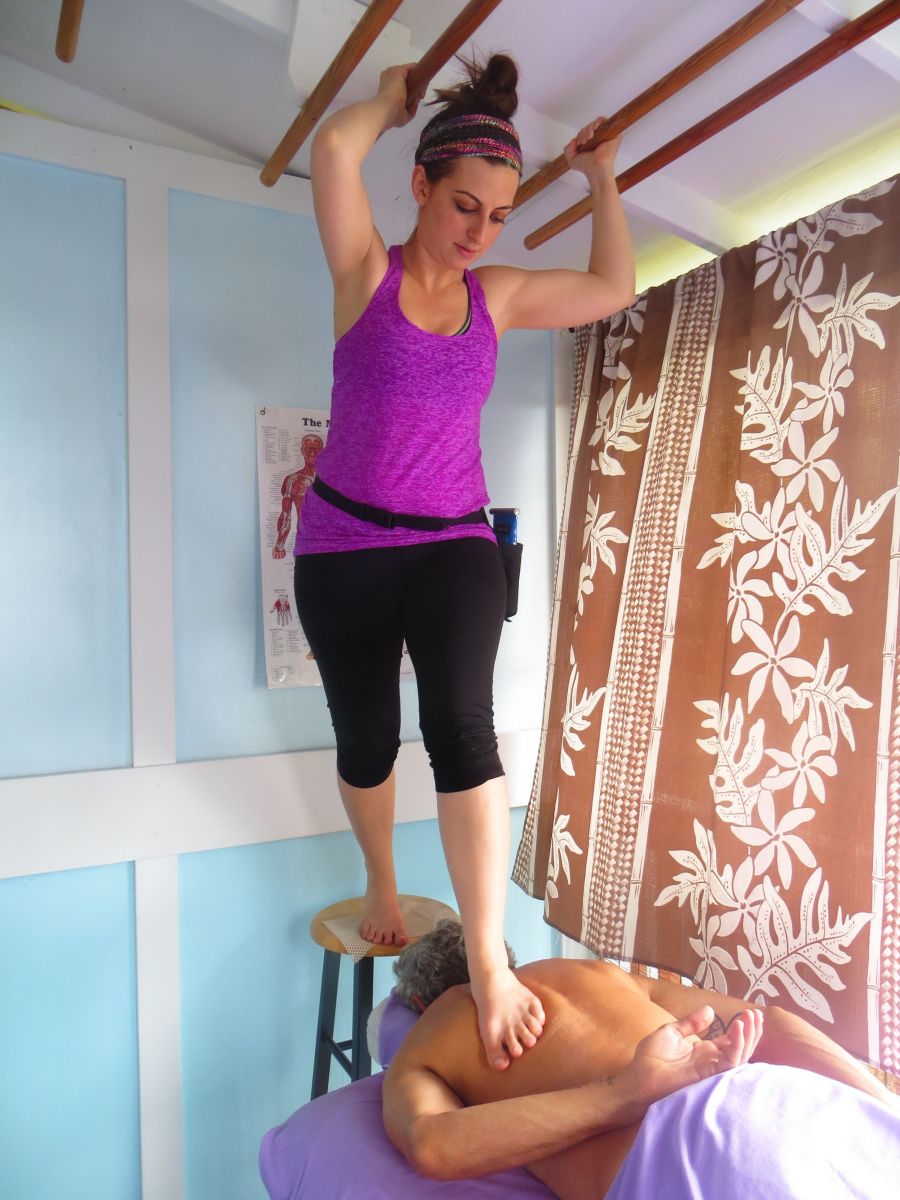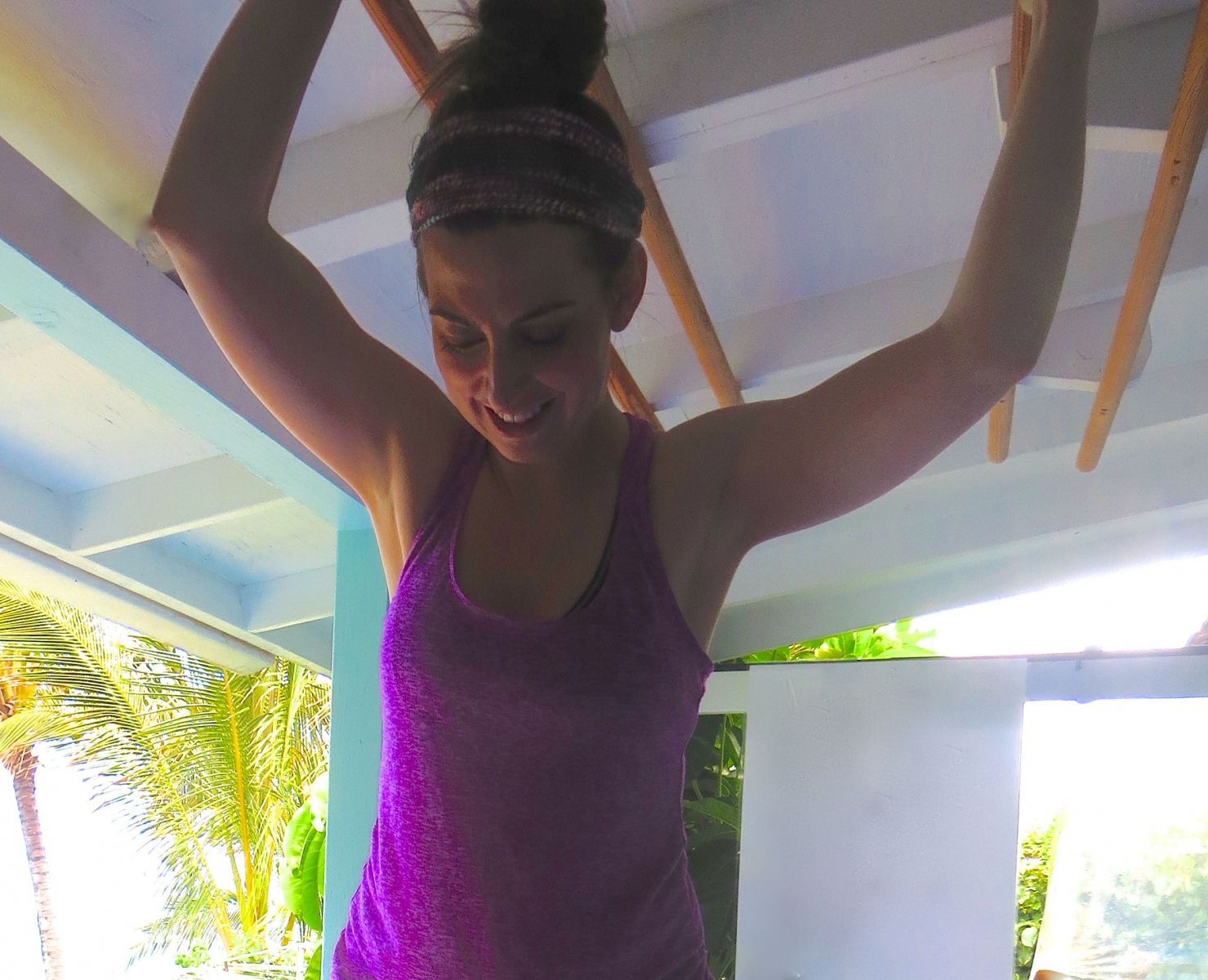 Amanda caught on quickly with the idea of "be as good with your feet as you are with your hands!" She enjoys continuing education courses and said she "loved taking this class!"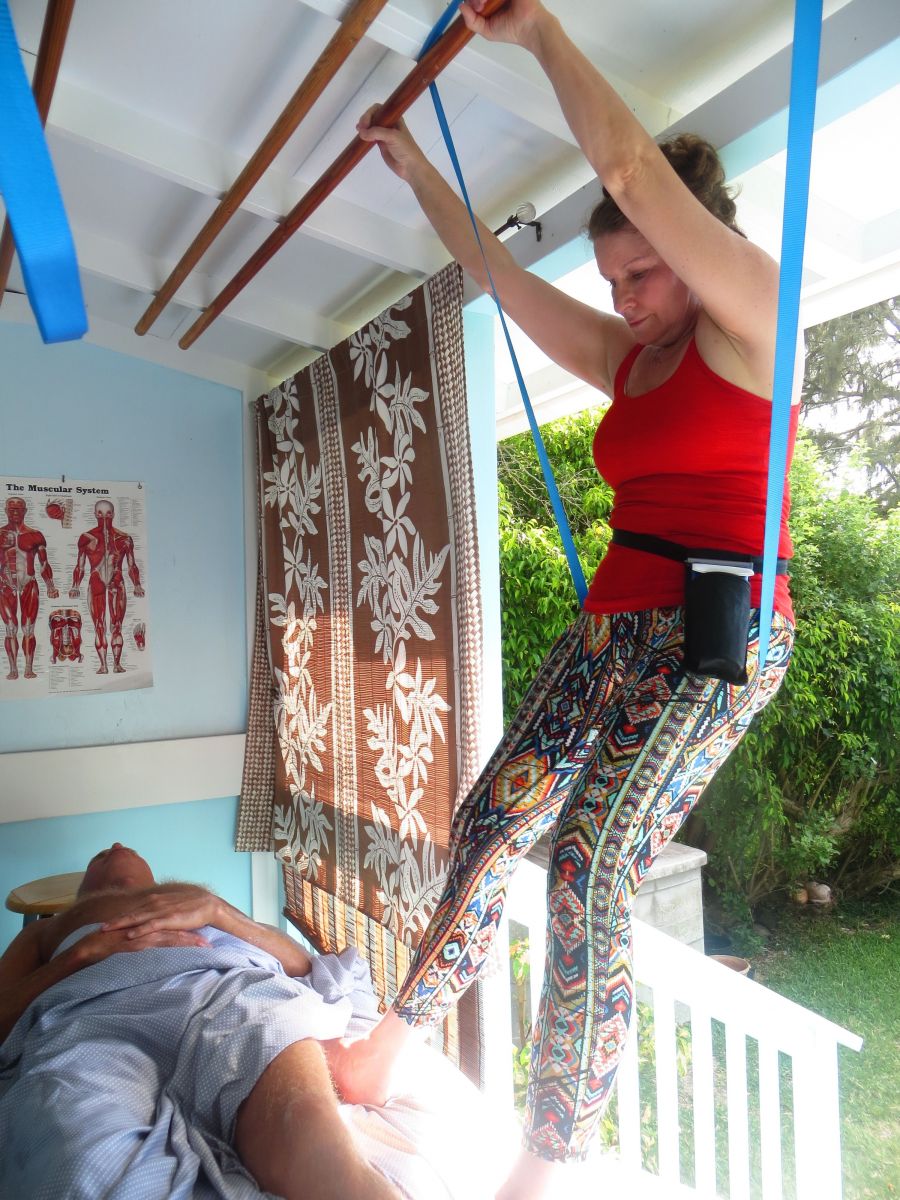 Kimberly was game to try something new! Her clients are eagerly waiting to try Ashiatsu now too!!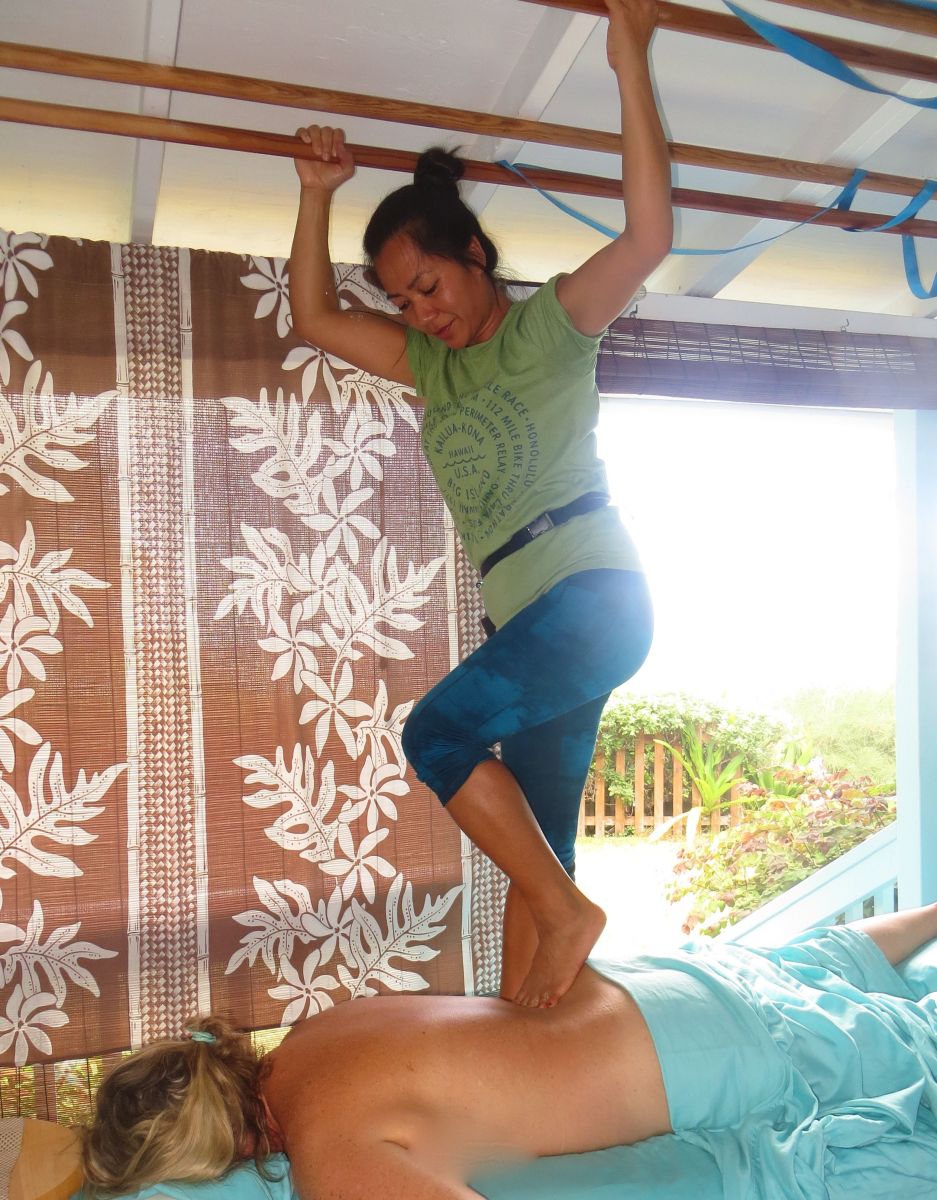 When Ashiastu has been on your list of continuing education for a long time, and you it's finally a reality! You ace the course!! Linh flew over from the Big Island to make that happen for her, and now she's ready to show her clients and family what she's been talking about and why! As an instructor, I love it!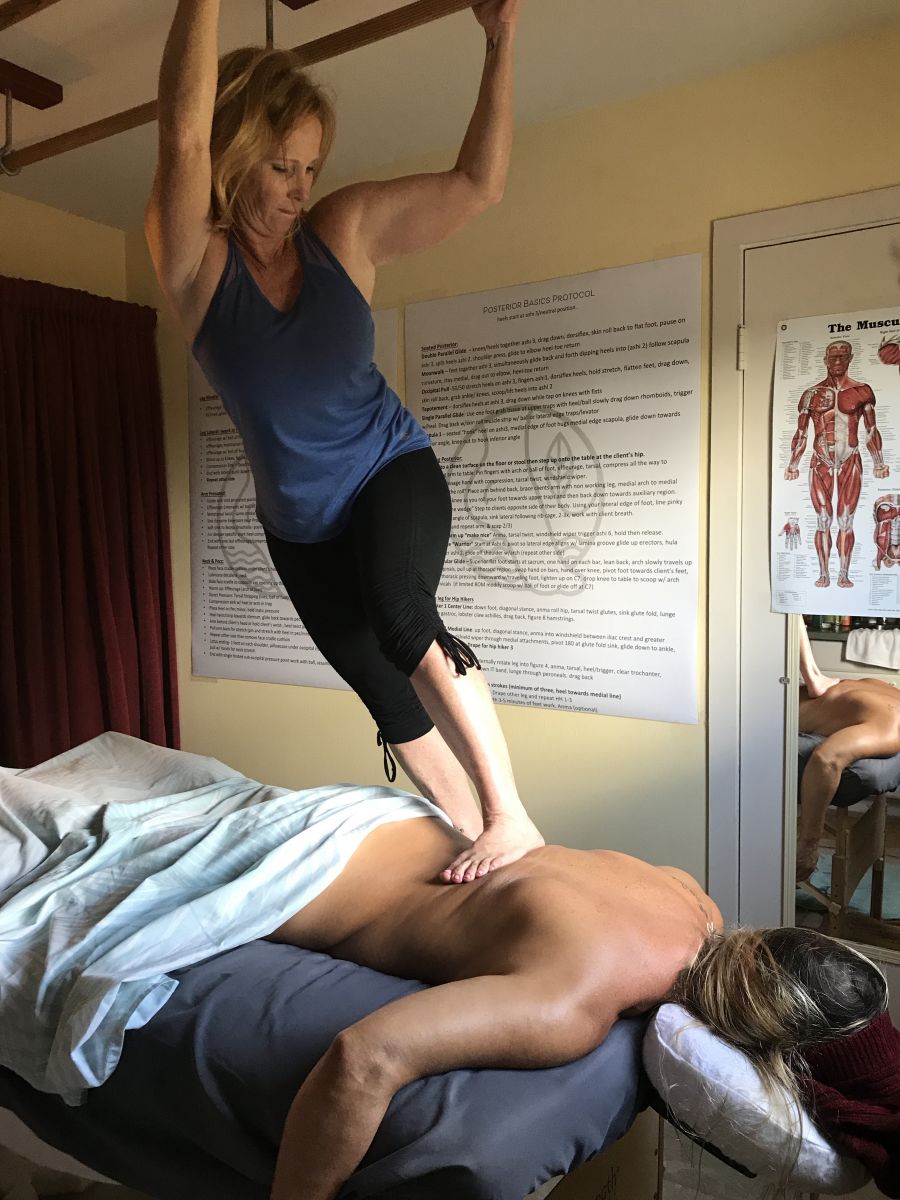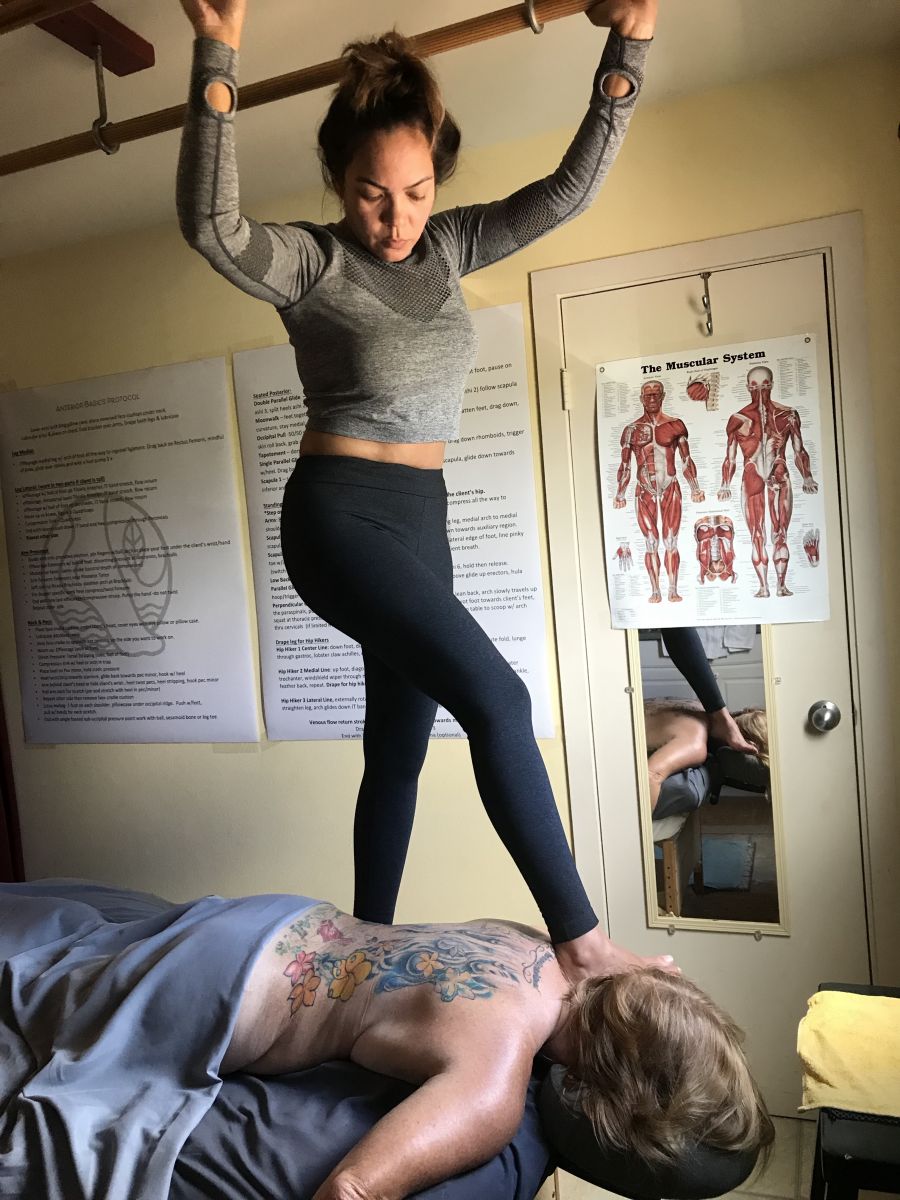 Hawaii now has 2 more taletned Ashiatsu Therapists! Diana and Jasmine showing they love working in a new way with way less effort!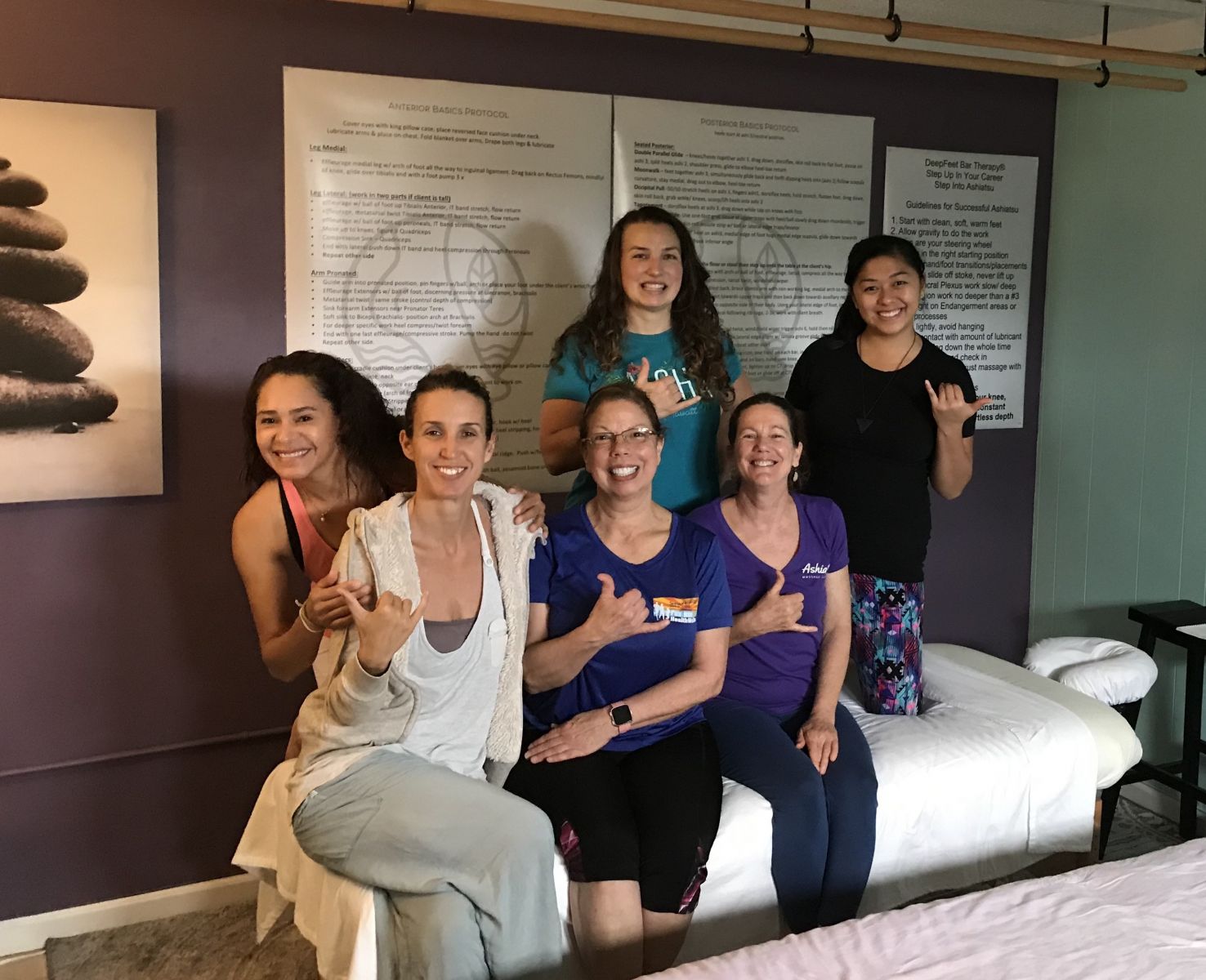 My first Deepfeet Bar Therapy class at my new location! Nissa from the Big Island, Tenisha from Maui and now Oahu (and working with me!), Aunt and neice Elizabeth and April from Oregon and Beri from Nicaragua! What an awesome group ;-)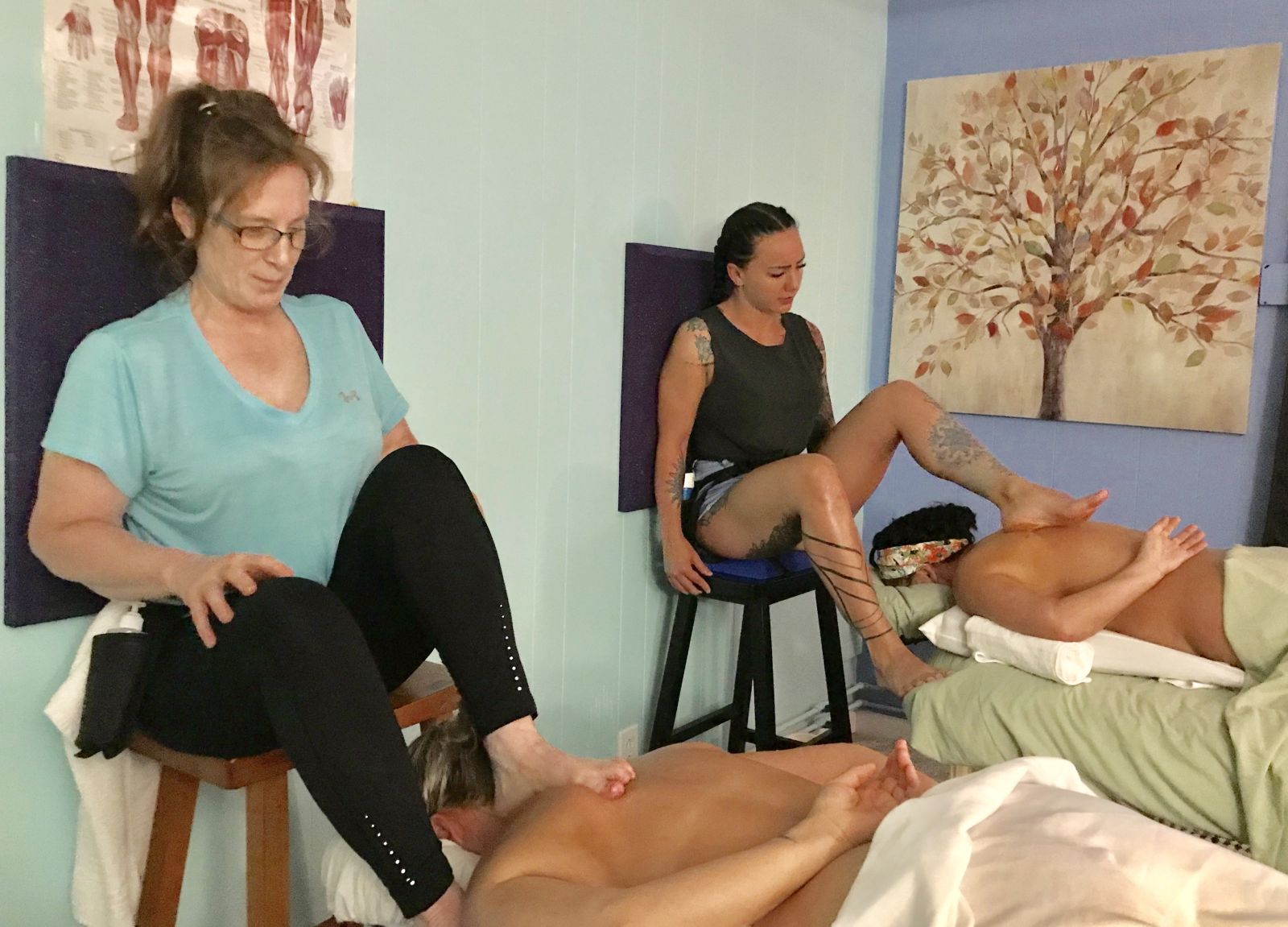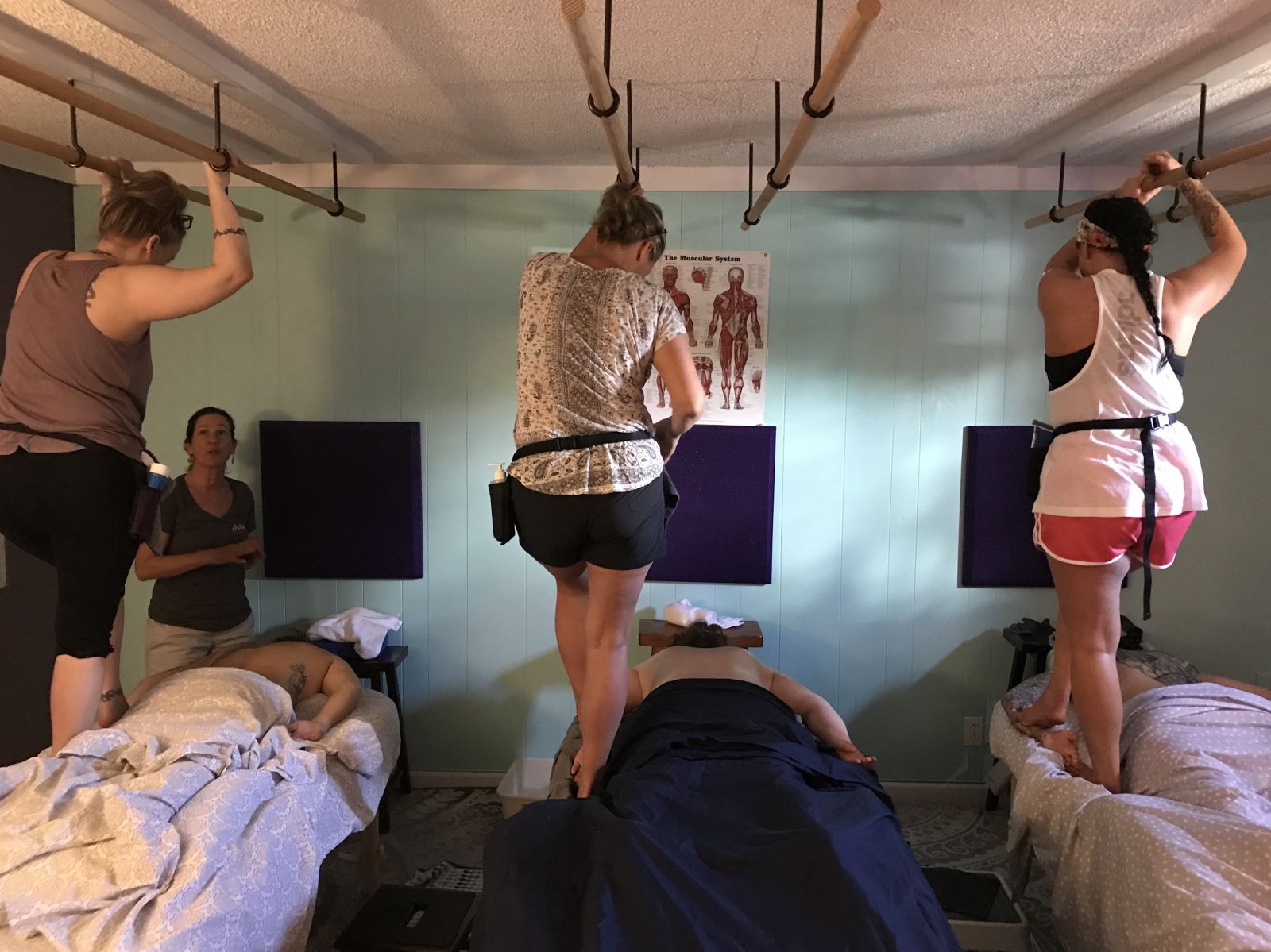 Escape the winter cold! Kylee, Mary and Petrita from Alaska, Nicole from Ohio, and Fryth from Washington. Remeber to keep your feet warm!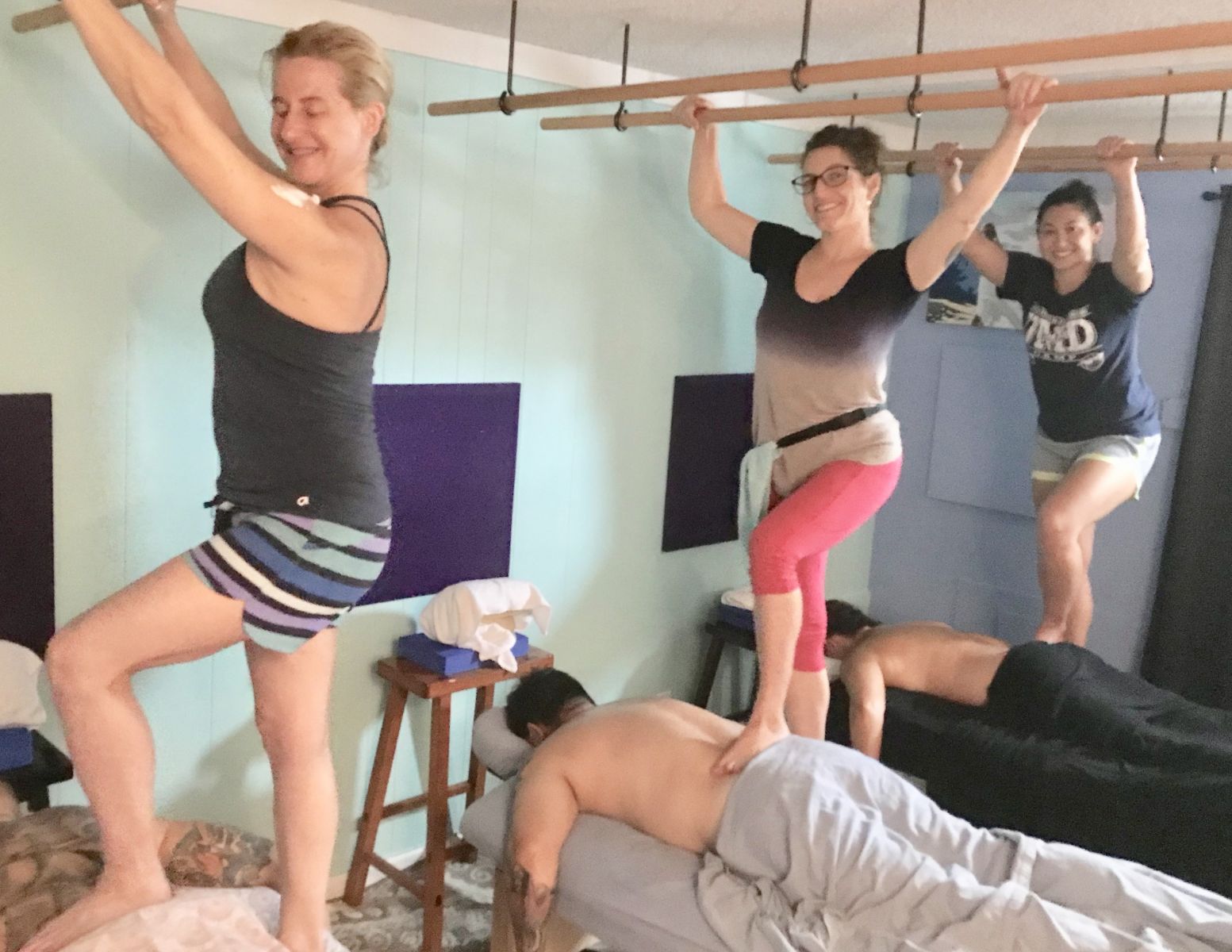 Getting the foot work down! Hana from Michigan, Melisa from Gorigia and Priscilla from the North Shore (and working with me!). All my classes are serious and yet fun because a sense of humor goes a long way!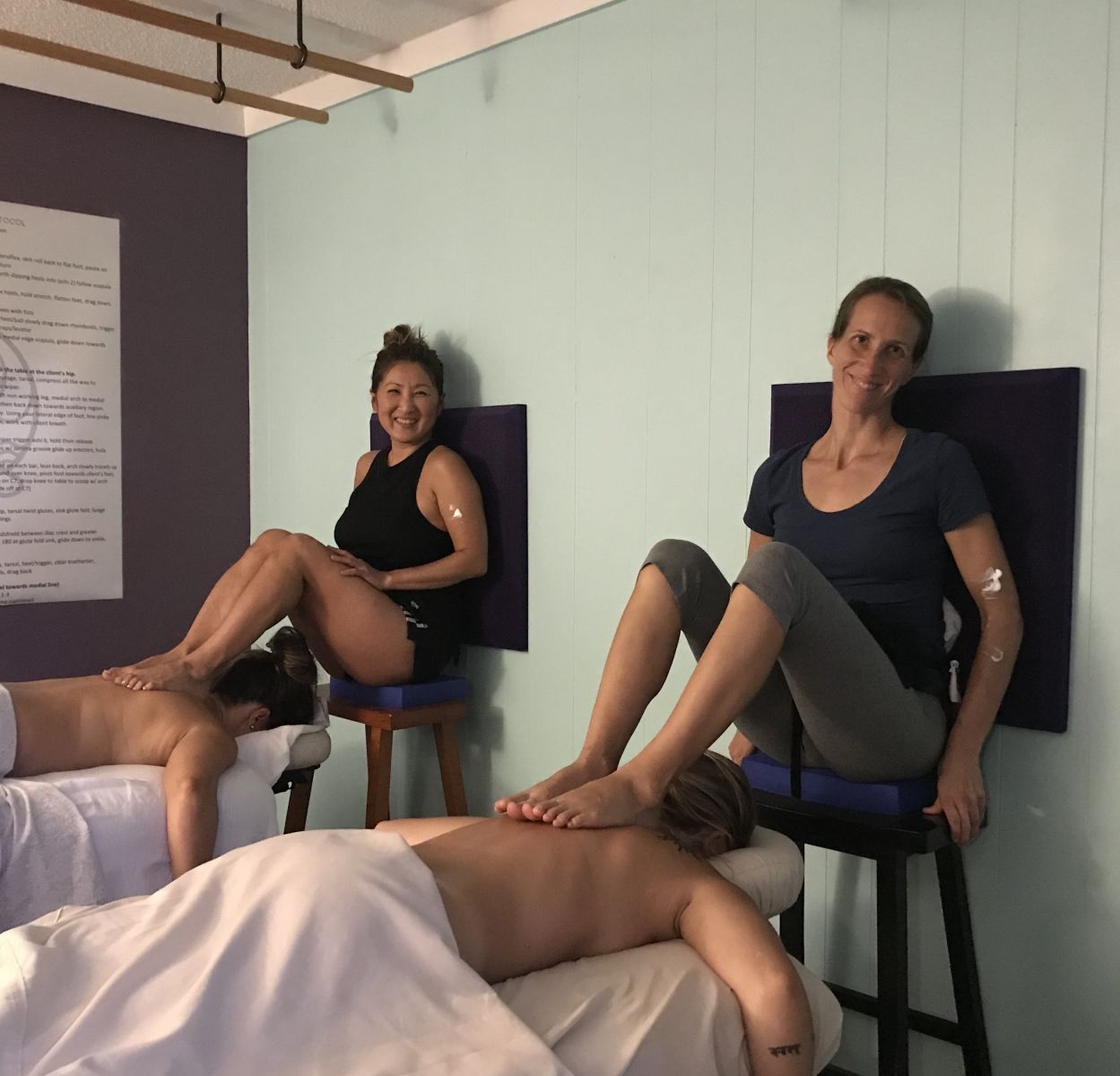 Maggie flew in from New Zealand just to learn ashiatsu! And Melody is a North Shore resident and also working with me! They got a lot of personal attention with this small of a class ;-)